0 Comments:
Subscribe to Post Comments [Atom]



Friday, February 28, 2003
THANK YOU TODD


The world's best computerwizrardcodemaster fixed things for me. Yes, yes, it's easy if you know what you are looking for but I don't know what I'm looking for. But wize Todd did and now the blog works right.

Another happy camper 'round here is HeyBaby. I sat down with her yesterday and began practicing my spinning again. I say practice because nothing I spun was worth looking at. I had to think hard about what fiber I was willing to trash. I haven't been able to spin since early January, first because of serious burns on my fingers, and then because my knitting classes have taken up all my spare time. About 10 days ago I was rooting around in the den and I moved HB. I could feel how sad she was. I've pretty much out-grown anthropomorphizing things but once in a while an object comes into my life that animates its self, and HB is one of them. She was very cooperative but I did waste some good fiber getting my touch back. It wasn't just me, though. I bought some angora/ramboulet off e-bay and it's badly carded. there are so many neps in it I can't spin anything but bumpy yarns with it. Just before bedtime I got out the wensleydale I had been working on the day I burned my fingers and began the second bobbin-full.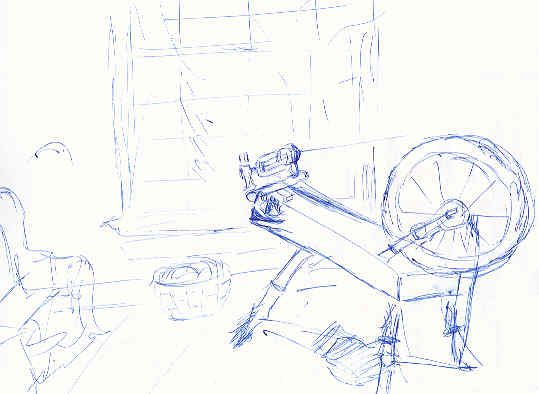 HeyBaby is happy again.


Those who know and love me know I've been tracking down, finally successfully, Deb Menz' book Color in Spinning. It's OutOfPrint and not readily available on the used book mart. Interweave Press had a few slightly damaged copies and I bought 2 but they told me they were expecting a few copies back from distributors. It is absolutely my favorite of all books on dyeing fibers for spinning. It is not the only one, maybe not even the easiest one to read - but it clicked with me in a way all the other good dyeing books I've read have not. Her color theory section is quite solid but it is how she chooses colors and how she combines things to get bold effects, or subtle ones, or intricate or surprising or whatever she wants, that so excited me. I guess - I am glad for simple explanaitions, but by gum, I want power. I want to be able to move colors this way or that, too. And she goes into how that can be done in a very thorough way.

Well guess what? She has 2 videos! Yep - Victorian Videos sells 'em. and I got both - and watched the first one yesterday and it's a keeper. In fact, if you can't get the book, the video gives you the baisics of her techniques. The handpaint section was the part I was most interested in. Not only did she demonstrate how to do the dyeing but she showed how to combine many different handpainted rovings to obtain the different effects she wrote about in the book. It was as if the video reduced the book down to its essentials. I'm so pleased. Gonna go watch the second one as soon as I'm finished here.

I did some knitting too - working on stuff for the last classes on Saturday. My morning class will be a repeat of the bead knitting class and the p.m. class will knit a teddybear sweater. The pattern for this is cute and fast and it fits 14" dolls and bears. I devised it for a workshop last fall and I think it may be worth posting here - at least temporarily. The best thing is it will take these new knitters through the process of knitting a circular sweater.

I've been swatching both the Brown Sheep handpaint yarn and the Ozeyarn boucle, and both of them have told me what they want to be, (I am BEZZ the great and knitterful. Do not pay any attention to the woman behind the curtain. Do not listen to what she said about anthropormorphizing stuff) but my fingers aren't cooperating. So I'm feeling scattered instead of energized. ... oh. i just realized what the problem is. It's that gold UFO from last year - a beautiful sweater that has got a hole in the sleeve now and I feel depressed about it and am avoiding finishing it - but I am supposed to finish it and that's why I can't get started on anything new.

Well.
Darn.

I guess I have to finish that thing.

Bummer

posted by Bess | 6:44 AM
---