1 Comments:
Bess, dear, glad to hear you are "as well as can be expected" after that glorious birthday dinner! Bravo to GD for her cake, and Happy BD to BD!

Subscribe to Post Comments [Atom]



Thursday, March 31, 2005 I must be old. I am always going on about my health. Happily I am, as Miss Bennet says "a little better." Happier is the news that my long tall teenager will be here the next day it isn't raining, to rake up the yard and garden. Little does he know I would pay him any price to shoulder this chore. Instead, I will let him bill me. Happiest of all is the sweet knowledge that I don't have to hustle along this morning. I'm vacationing with BD on his birthday.

We began celebrating last night with a steak dinner, cake and ice cream and presents. Our precious Bride baked the cake, a distaff celebratory custom of TOWERING CHOCOLATE, 4 layers high. Evidently, many scores were paid off with her presentation of this confection, not the least of which was the Triumph of Cake. I didn't ask for details, but it was evident that this was MoreThanCake. Baking skills were not considered particularly rare in my family. Those who liked to cook were encouraged, but cakes, in my childhood, grew in boxes or came in kit form. Not unsurprisingly, all my sisters and I turned out to be pretty good bakers, but becoming so was never a goal. It was different for GD, and last night she was as proud as a glowing candle with her success.

I, alas, overate - something I seldom do at one sitting - and went to bed groaning. In fact, it was all I could do to not tell them to run along, so I could go lie down. BD kept them talking forever, coaxing out more flattering attention, more tender gestures, more smiling conversation. Since it was his birthday I said not a word, and since I have been so silent all week, nobody noticed anything unusual in my lack of chatter. Today it is carrots and apples and water for me.

I think today we shall drive over to the city and look at pretty things. I'm not sure. Though the weather dot com guys say it won't rain till the evening, it looks mighty stormy right now. I will knit on the Mountains of Lace sweater and maybe wheedle BD into stopping at the bead shop so I can buy MORE stuff.

But whatever we do, we will enjoy a day of happy birthday memories; the ones we make today added to the ones that have come before. posted by Bess | 7:37 AM
---
2 Comments:
Happy, happy co-birthday Ed dear!

Love, your partner in birthday crime -

LWLY

happidy birthday right back. you dear little rams

Subscribe to Post Comments [Atom]



Wednesday, March 30, 2005 Two days off, three days of almost not talking, has made some improving progress to my health. Eyes still burn and sinus .. well - if you live in Virginia, you have what is known as "Sinus" anyway. I just have a little more "Sinus" than I like, this week. I can at least talk - though after a while it really exhausts me. I have a story hour this morning but once the kiddies are gone I will sequester myself in the workroom and catalog books. That's a wonderful way to be productive without thinking very hard.

I finished knitting the baby sweater yesterday, with only steek cutting and the button band left to do. I knit up one little bootie too, from this: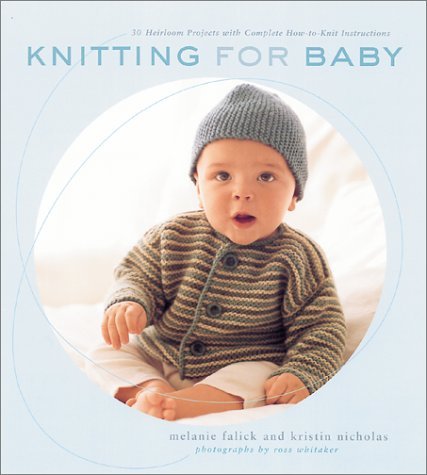 It's a garter stitch bootie and I was reminded once again how much I like the look and texture of garter stitch in fine wool. I hate the slowness of it - and the boring quality of just knit knit knitting. I can't imagine ever completing one of those Einstein jackets - ugh a whole body's worth of garter stitch - but I do love the fabric.

The shower for this new baby isn't till April 12 so I have time to do the last fiddly bits on the sweater. That means I really ought to get back to the Mountains of Hearts sweater. I believe I'm ready to anyway - I've gotten over the worst of the Fear - 0 - Running Out Of Yarn. It still niggles at me, but agonizing will not make the yarn grow longer while I sleep. There is nothing for it but to "grit my teeth and knit" as EZ says about the anxiety of ribbing.

What I don't see myself doing is making anything specific for the Md. Sheep & Wool competition. I really want to finish the sweater before MS&W - I'd like to show it off to the Brooks Farm folk - but I could enter it - only - it has errors in it. 'Course, it's very pretty anyway so ... we shall see. Certainly that would be my only entry. Well - let us see how I progress with it.

Yesterday was the first real day of spring. Little leaves began unfurling on the wild plum and wild cherry trees. The yard looks green beneath the unraked leaves. The air was sweet and gentle, warm, but not hot. It's almost April and the Yoshino cherry trees haven't blossomed yet - they are usually in full blown cotton puffs by about the 20th of March. It's been too cold and too rainy this spring, for much visible springtime. But I believe we have beaten winter at last.

Tomorrow is BD's birthday. I will take the day off to spend it with him. This is an annual ritual - this day and our wedding anniversary in April. We will get in the car and ramble around the countryside - or maybe go to the city. He'd said he'd like to scrounge around the used book stores. I will be happy to cooperate with him.

But this year we have the added sweetness of TheDarlings, to help us celebrate. They're coming over for dinner tonight. I will buy steaks but TheDarlings have picked up frozen custard from Karl's and they baked a cake too! Not a bad way to begin a birthday celebration.

So - let us pray that the body will quickly finish with healing itself and with that, life will be just perfect. posted by Bess | 6:59 AM
---
0 Comments:
Subscribe to Post Comments [Atom]



Tuesday, March 29, 2005 I am better, but not better enough to go to work. And certainly not better enough to write anything clever enough to be memorable. Today's entry is merely to record the passage of time. I knit a little on the baby sweater, played a little with my beads, sneezed about every 15 minutes, in spite of the AllegraD, and slept the afternoon away.

If I had to go to work today, I would. But I have no important meetings to attend. I have no deadlined projects on my desk. I have a gazillion hours of sick leave and enough staff to keep the library open. I am completely dispensable.

So - it's back to bed for me. posted by Bess | 6:21 AM
---
1 Comments:
Bess, dear, here's a long-distance hug and hope that your throat improves! Tea&honey, tea&honey, tea&honey must be your mantra!

And aren't beading places great? I am learning to apply beads to my quilting, and having a ball finding just the right ones! We have a shop nearby called "Beads and Plenty More" (very apt!) and another in a funky older part of the city that I love to visit. My DD used to make wonderful bead earrings -- long, dangly things -- and she made beautiful necklace and earring sets for herself and her bridesmaids for her Big Day. Great fun!

Subscribe to Post Comments [Atom]



Sunday, March 27, 2005 Just a quick update about Saturday's splendid foray into the Land Of Beads. GD and I made a brief stop by my parents to show them wedding photos and then battled Saturday in the Suburbs traffic across town to Bangles and Beads, a delightful little cave of wonders on Cary Street. They offer a weekly 4 hour beginner class for a bargain price of $25, all materials included! You make two necklaces, a pair of earrings and a bracelet. The first project is a necklace using head pins and chain links to connect the beads. This one takes the longest and when you are done you have begun to get comfortable using the pliers and wire cutters. We were introduced to the clasps that conceal the knots in the strung necklace and since there was time at the end of the class the teacher showed us how to do wire wrapping to turn beads into links. The hardest part of it all is selecting the beads, since there are so many to choose from and they are all tempting.

There were only 3 students; after all, it was a holiday weekend. That probably made it easier for us to soak up the lessons. And afterwards, I couldn't resist doing just a wee bit of shopping. I knew I had at least some of the pliers at home and didn't want to buy duplicates, but I did pick up some delicious beads, some more wire and some other findings. Alas, once home I realize I don't have any wire clippers, but they are easy enough to pick up - our local Walmart may even have them.

Sigh.

I see another serious stash enhancing activity infiltrating my life. And it was a sweet quiet time for talking with GD too - listening to her plans and ideas. It is just soooo wonderful to have a girl in my life.

We swung by B&N on the way home to pick up BD's birthday gift, only to find that none of the frickin' B&N's in Richmond - the capital of Virginia - have a copy of Virginius Dabney's History of Virginia. There is something really wrong in this picture. They can get it for me? When? Next year? Geezoflip.

Corporate megahemoth thinking is so stupid.

Well, he and I plan to stalk used book stores on Thursday and we may get lucky then. If not, I will just have to order it for him - but I believe I shall go the used book route just to spite B&N.


CONTINUED ON MONDAY




All that visiting, even though I tried not to talk, wrecked havock on my poor throat. I spent yesterday trying to be SILENT. (An impossibe, but worthy goal). I can croak out some conversation and did a wee bit at Easter supper with TheDarlings. But I know I have to stay home today and stay silent. Even if I hadn't planned 3 conversation requiring activities, I would talk at work. And talking is painful, my voice gets fainter and takes longer to recover, and eventually I begin to cough like a consumptive. I must sequester myself in the cave. (heh heh, with knitting needles and beads? who am I kidding?)

No - in all reality - I must stay silent at least one more day. This is a major bummer because M, who is KnitSSK on the forums and with whom I visited 2 saturdays ago, is coming by the library. We had planned to have lunch. I am so bummed about that. To add to my dissapointment, tonight was to have been the final class in the My First Sweater class. I will have to postpone that too. This really was to have been the most talkitive day I could imagine in the library. Sheesh.

Well. I am not going to risk getting actually worse, instead of better, by exposing me to conversations. Poor BD will have to make a thousand phone calls this morning.

There is nothing for it. We must hope for better things. Tomorrow. posted by Bess | 8:25 AM
---
1 Comments:
LOL and Hooray for you!

Subscribe to Post Comments [Atom]

Little golden chocolate box beside my coffee cup,
Its sleekly pebbled surface gleams, as I pick it up.
My fingers pluck the ribbon tails that decorate the top.
The loops pop free, the ribbon falls, I can not seem to stop.
I slide my nail beneath the flap, held down so snug and tight.
The lid comes up, the tissue parts - reveals a thrilling sight.
Inside are morsels sweet and dark, who's fragrance so enflames
My senses reel, that familiar feel is driving me insane.
'Tis been so long since last we met I'd thought the memory gone
And yet returned, this sweet delight will be mine ere too long.
You little flirts, you've tempted me with promises so sweet
But now my wait is over and I soon will get to eat
You sugar'd bites that blossom forth with flavors rich and rare
You'll be all mine, each sweet delight, I will not have to share
My lips do part, my teeth sink into candy so sublime
For lent is gone, and Easter's nigh. Oh chocolate, you are mine. posted by Bess | 8:06 AM
---
1 Comments:
I'm already retired (achieved early when my company merged with another and I was downsized) and I'm using this part of my life to do some things I didn't have time for earlier. I've traveled quite a bit and look forward to doing more of that. Meeting new people on the trips makes them more enjoyable. Just this week I learned of a program where you can volunteer in Spain to speak English for a week to people who need to be fluent in English for their careers, etc. You pay to get to Spain and the first and last nights in a hotel but your room and board for the week between are paid for and you can't speak Spanish to be accepted. What a great way to go to Spain! Got the Elderhostal catalogue yesterday and what a wealth of opportunities to learn about a host of things and travel at modest cost at the same time. If I can do any of these, I'll be staving off Altsheimer's while I'm having fun. I think we just need to give ourselves permission to approach things with a child-like wonder.

Subscribe to Post Comments [Atom]



Saturday, March 26, 2005 It's a quiet morning in my world. I zipped through my morning routine so quickly I have time for a blog entry after all. I must be on the road by 8:45 and I hadn't thought I'd even have time to post.

It's a suitably gloomy day for staying indoors. We've had such a cold wet spring that I might have resented a golden sunshine Saturday spent in the bead cave. Instead, I'm getting a little more weather permission to stay inside. The closest thing to sunshine promised us by the weather dot com guys is partly cloudy on Wednesday. Other than that it's 10 days of rain.

I picked up the baby sweater yesterday and got those sleeves attached. I'm knitting my way around the widest part now and have about 15 more rounds to go before I begin decreasing. I'll do that in the purl stitches so that this wide flat ribbing narrows towards the neckline. I hope to have a pair of wee booties and even a cap done before April 12 when the baby shower will welcome a special guest of honor. Miss Ruth Margaret decided to come yesterday instead of in May. The word is she was indignant at being whisked off to the NNU, kicking and screaming. Happily, the line of foot stomping shoulder shrugging H women is still going strong.

This new generation is flowing in like the tide, a ripple here, a lapping wave there, then a little ebb to give people a breather. All my life my ambitions and fantasies, my focus, was on becoming AMother. I never had any daydreams about LifeAfterKids and in fact, the ones I have now are fairly pale. I enjoy what is happening in my world and when truly exciting events, like TheWedding, enter the picture, I can be as swept up in the excitement as the next person. But I don't have projections about what comes next, or deep powerful longings. I will be glad to retire, but I'm in no hurry to skip the next 13 years either. I am just made that way. The big deal was having my children and ... well, my children turned out to be one boy who is now a man and it's his turn. I'm blessed that GD really is a Darling and I am going to have a powerfully good time when they start a family. I'm doubly blessed that they live near by.

It's just that I don't know how to daydream about this second part of my life. I can choose goals and achieve them. But that's more like ticking off items on a list than dreaming of rosy futures. It's fun, too. I love strategic planning. I sometimes like to carry out those plans. But they are not the same thing as fantasy daydreams, that glowy misty magical horizon that edged my youth. And since all my fantasies were about becoming something I was biologically intended to become, it isn't really much of a surprise that my daydreams did come true.

Since my retirement from Momdom, though, sometime in the summer of 1994, life has been much more serendipitous, much less predictable. The things that have popped up on my radar screen have been unknowns, strange and surprising. Who would have thought I would have been the entrepreneurial force that would bring Internet access to a rural community years before the dot com revolution? Who would have believed I would spearhead a million dollar campaign for a new library in a county where 40% of the adults didn't graduate from high school? Whoda' thought I'd discover spinning wheels - much less own two?

When I hear about the "wonder of childhood" I always bite my lips closed. No point in arguing about something so subjective. Childhood was not that wonder full to me. It was an ordeal I had to get through, made easier by retreating into the pod. My young adult life was the fulfillment of the promises I made myself, back when I was 7, though their fulfillment was fairly predictable. But this second half of adult life is the one full of wonder, amazement and strange new things. For sure, today's offering will be ... beads! posted by Bess | 7:28 AM
---
1 Comments:
One of our fav. hangouts in Okracoke is Howard's Pub. Wonder if it's any relation to the Howards Boarding House?? Jane

Subscribe to Post Comments [Atom]



Friday, March 25, 2005 There has been a tactical victory in the war raging within my body. After camping out in front of the dr.'s office I managed to purloin a prescription and after waiting for the reserves to draw up behind the flag, I dosed the bloodstream with AlergaD and within hours I could tell the evil histamines were retreating. One tonsil is still doing its weird thing and the eyes still burn, but the threat of full blown bronchitis has been averted.

Total victory is in sight.

Just in time for the weekend. Heh. And the Bead Class da Capo which I will be taking with GD. Sweet sweetness.

But I am pondering today. Thinking about an interesting article in the NYT book section, by William Grimes, about the plethora of memoirs available out there. He assures us there is something for everyone in the genre of self revelation: the druggie, the hippie, the slut, the soldier, the beltway bandit, the beltway victim, the mom, the one who walks among us, the one who walks with angels. You name it, someone is telling you about his experience with it.

It got me to thinking about writing and why people write and why we read what they write and how memoirs are different from fiction and how they are different from other kinds of writing. It got me to thinking about blogging too - and why I am compelled to write mine and why anybody would want to read it.

When we sit down to talk with loved ones, or get together with friends, or even when we meet someone new at a party, we put out little trays of ourselves, like human hors d'oeuvres; prettily arranged tidbits of information telling our stories. The closer we get, the larger the banquet. Unless we are instructing or demanding, in which case we are still letting ourselves be known, but for a different purpose, the act of conversation is always the revelation of self or the comprehension of another. We hope we will be found worth knowing. We fear we might not be. We dread having to find out about the unworthy, the offensive, the dull.

We are all living the memoir we will at least contemplate, when we are older. We may never write the thing, but we are very likely to tell it, if only to our grandchildren. Some of us will write it as it is happening - hence the blogging phenomenon. Who doesn't have a blog? What topic isn't fringed with enthusiasts, journalling daily - with digital photos and animated smilie faces to keep it colorful?

For that matter, who doesn't love interesting, funny, poignant, witty tales of others lives? Don't we have our favorite blogs, novels, movies - our favorite party guests, raconteurs and bossom friends? I venture to say that the enormous popularity of fiction isn't because of the events that move the plot along, but because of the characters - the personality of the hero or heroine, with whom we identify, who thinks and acts and speaks the way we wish we would do in the same situation. We just love fascinating people and want to know more about them. We get ideas of how to behave, what to say, what to admire from these sources.

We write to communicate. We communicate to validate ourselves. We long for proof that we are desired, and worthy of desire. We find that proof when others respond to our words. We find it again, when we respond to theirs. We want to matter and we want to know we do.

So why does Mr. Grimes find the shelves of memoirs in his local B&N dismaying? Why are they worth a whole column? I suspect it is three things. First, the cynical and mercenary hooks upon which so many are hung - the a la carte variety of topics available from which the reader may select. Most of the authors are fairly insignificant in any global sense. They are largely your next door neighbor type, though a few, in the Hollywood or political arena will have at least had the opportunity to orbit other stars. And frequently these famous types have hired a ghost writer to do a vanity bio. But most of these authors are Like You Only More So. More into sex or drugs or travel or spirituality or nostalgia.

Second, and of greater importance, is the fear that the quality of writing will be low or even bad. A promise of titillating details in the life of a prostitute is supposed to lure in the reader. It is a supposedly guaranteed but exceedingly low common denominator. But in fact, it takes a Madame du Bary or a Barbara Villiers to really make reading salacious chatter worth one's while. Nothing can so waste a day like trying to read bad writing on a prurient topic, hoping and hunting for the good stuff, be it content or style.

Third, and perhaps most important, is the fear that from the experiences of the author, we shall learn nothing. What does a teenage drug addict have to teach me? I am neither a teen, nor a drug user, AlegraD notwithstanding. Worse than that, I don't like to think of teens and drugs. Not that I am in denial about them. They just don't hold a place in my roster of recreational activities. But the likelihood of profundity arising from a Zoloft gobbling newspaper reporter or a Salsa dancing soul seeker is fairly slim. And if I have to slog though the tale of depravity, I want to find something worth holding on to at the end.

We still have a deep regard for the printed word. Every person who brings her old books to the library, because she just can't throw them away, proves the lasting hold a bound volume still has on the human psyche. We cringe at the thought of burned books, when really, it is the burned idea that is the loss, not the item itself, not in this world of mass production. We still believe that just having the book in some ways imparts its mystical preciousness onto ourselves. In conflict with this deep belief, though, is the fact that it's the ideas that are really important. And when we hold what our cultural memory promises will be special and find within it only dross - we are disappointed. And the more one reads, the more one finds this to be the case. And that, I believe, is the real issue Mr. Grimes has.

For that matter, it's my real issue too. In my job. In my own reading. In what is offered to the rest of the world. I haven't given up all hope, yet. I am not a cynic. I still have faith in the ideas of mankind. I still discover the gems, the jewels, the golden nuggets. I have merely had to don a finer meshed filter as I sift through the literary offerings. I'm willing to take some chances. I allow a certain percentage of disappointment and failure and I give myself one great permission, most especially when it comes to books. It is all I have to offer anyone who is still reading this.

You are not required to finish the book.

If you suspect there's not much to it - you are probably right. There is no test at the end. You are truly in command of the ship when it comes to books. Steer yourself where you want to go. Read as little or as much as you please. Nobody will know. Your opinion is right. You are the boss.

And when you are done - you can write your memoir about your journey through bookland. posted by Bess | 7:55 AM
---
1 Comments:
I'm sorry to hear about your allergy woes. I did that for years when still living in Tennessee. Thanks for the encouragement about Phillip and Jessie's engagement. She really is a sweet thing.

Subscribe to Post Comments [Atom]



Thursday, March 24, 2005 Oops. Well, can't even get the cool name program to work on my blog. I wish I had a banner like that, all graphical and cute and colorful, instead of my sober bankers colors. I even have a book on how to blog, though it's a lot more about how to be cool with your blog and I believe I am already cool. (Oh how I need smug smilie faces here.) The combination of being lazy as sin and too much of a Virgo puritan to feel like spending that kind of time on a blog when I could be DoingSomethingProductiveAndUseful means that, until I can kidnap one of those geeky cool types, I will continue to have a sober looking blog.

Alas - I am not a whole lot better. Hooray - this is not a particularly bad allergy attack. On a scale of 1-10 it's about a 5. I'm still trying to get hold of my dr., who must have had an AA himself, since his office was closed yesterday and won't open up till 1 o'clock today. I plan to be camped by the front door so that I can wrest a prescription from his pen and scurry on down to the drugstore. The big question is "Do I go in this morning?" I know that if I get too tired there in the a.m. I'll be coughing like a consumptive by lunchtime. I have a meeting in the p.m. that I really don't want to miss (though I can miss it - I'm not that dedicated). If I thought I'd really sleep (Bess' sure fire cure #2, directly after drink more water) the morning away I might stay home. But I am such a morning person that daytime sleeping is usually only possible - if irresistible - after noon.

Happily I did come home yesterday afternoon and did sleep for several hours. Not a stitch of knitting done, either. In fact, I was too dopey to be able to tell if I had reattached the sleeves on the baby sweater correctly or not. You know you are sick when you can't divide 130 by 4 and subtract 3 from the answer. What I did do was re-ignite an ancient crush.

Eons ago I happened to walk through the den while Mama was watching the most unusual television show. The filmwork looked more like a soap opera but everyone was in costume. Turns out it was the BBC production of The First Churchills. I only saw the one episode. It must have come on some time when I was usually not at home, and this was in my youth, dearies; decades before home recording technology. 1969 probably or even 1970, when I would have actuallymoved out of the house. All I remember was how much I wished I could watch the rest of the series. Alas, I never did. And I never thought to look at the PBS/BBC catalogs either. Or perhaps they have only just brought the show out on Video 'n DVD. But the library owns it now and I am thoroughly enjoying it.

The cinematography shows it's age. The more recent BBC offerings (and all other televised production, for that matter) have better color, better special effects, and better sound. But that same fabulous British theater training conquers all and makes it glow even 35 years later. The costumes are glorious and convincing, the story line is well written, and I still think Susan Hampshire looks like Shari Lewis. It's such fun to feel like a teenager again and get a good story with great acting all at the same time.

I'm sorry to have so little fiber news this week - mostly because I am sorry to be doing so little fiber stuff. I keep thinking of things I might be doing but not picking anything up. We shall just have to wait till I'm feeling better. At least I am getting this sicky stuff out of the way before Md.S&W - which is only about 44 days away. And this weekend I will try again, to take the beading class that has been, for so long, put on hold. S can't come with me, but GD has agreed to join me and put in a visit with the folks to boot. So the week will end with something sweet and begin with Chocolate. Who could ask for more? posted by Bess | 7:28 AM
---
1 Comments:
Heya Miss Bess! The boxwood bed sounds like a love idea. I hope you get those allergy meds soon.

Subscribe to Post Comments [Atom]



Wednesday, March 23, 2005 Thank you all for your kind comments. It's funny what a lift comments on the blog give one. I'm glad to have been able to help others along the way - and look forward to doing it more.

I'm also running late this a.m. The result of these microscopic enemies attacking my body, and the counter attac, marshaled by over-the-counter mercenary soldiers, shoring up the home guard, make me drowsy and achy. It also makes my sleep different - more of a recreational activity or some sort of dramatic performance that I watch, instead of actually participate in. I drifted into semi-consciousness a dozen times last night and finally woke about an hour later than usual. Not pleasant, but not actually unpleasant - just rather weird.

And no, alas, I have not used a mask when I'm raking leaves - but it's a very good idea and BD has an industrial strength one he uses when working on his boat. I believe I shall borrow it - although I am even more inclined to rake my yard with my checkbook - just pay someone else to do it. As for the garden - we shall just have to see. It needs a major overhaul anyway and I very much want to start a boxwood nursery bed.

A very very special man and his equally special wife used to propagate boxwoods around here. They both loved the library and made sure that some of their boxes were planted in both locations. He is gone now and she is in a home, completely lost to senility. I would like to make a bed of cuttings from their boxes and have some, not only for myself, but for other folk around here who would feel a warm fuzzy if they had some of the Little's boxwoods.

My car is in the shop - it quit making groaning, whining noises as soon as AMan got behind the wheel. Little flirty b***h of a car. But BD is tired of the interior light not working and the steering needed fluid - even the LFB couldn't disguise that moan. She is spiffy with her new windshield - so we have now spent $$$ on an ancient sedan without hubcaps - are we nuts or something? (Bess has new car lust)

But car in the shop means husband must drive wife to work - and since he is the King-O-The-Night, his QueenOfTheDawn has to nag to get him out of bed. Best be at it.
Perhaps some knitting content tomorrow. posted by Bess | 7:49 AM
---
3 Comments:
As someone who has been taught by you, I can attest that your love for teaching shines through, and manifests in your being a warm, encouraging, patient, desciptive teacher. Lucky, lucky students!

Bess, I share your love of teaching. I can just tell from your posts here and on KR that you are a born teacher. I look forward to the day we will finally meet and I can learn some of your wonderful techniques, especially for spindle spinning.

I love reading your posts here, your blog is so unique. It's like following someone through their day with thoughts included. :)

erica :)

Do you use a dust mask when you rake leaves? I have fairly strong allergies and when I used to cut grass, I had to use one if I hoped to breathe later. You might want to try that before you destroy all your gardens and plant them with boxwood. And why boxwood?

Subscribe to Post Comments [Atom]



Tuesday, March 22, 2005 The first day of spring brought me the ubiquitous March AllergyAttack. I still had one allergy pill left and called my doc to re-up the prescription, but too late. The eyes are bulging, the throat is on fire, and I am praying to every helpful spirit out there to keep my lungs free. This bodes quite ill for the garden. I swore last year that if I got sick again in the spring the whole thing was going to be dug up and planted in boxwoods. That future looks pretty certain.

But when I log off here I am going to write in the calendar for November, to hire someone to rake up all those oak leaves. I suspect it is they, with their evil secret coating of mold, that has done me in. I have been raking in snatches of time for 2 days now and they have had all winter to grow their nefarious Spores-O-Death. Trouble is - by the time enough leaves have fallen to justify raking, I am deep in the arms of indoor pleasures. The thought of yard work never even impinges on my happily creative brain, all busy with thoughts of knitting Christmas gifts. A little planning is called for.

Last night was the last class for my beginner knitters. We'd had to postpone two of the classes because of OtherThings and then had to switch the day to Monday. I believe last night's class was the most fun of them all. My beginner class always involves making a hat, which takes 3 sessions. The last class is supposed to be a review of the basics: cast on, knit, purl, increase, decrease and bind off. As we worked on the little swatch/book mark I showed them tips, let them experiment with different sorts of increases, went over how to identify mistakes - there was even time to show them how to make a basket weave pattern with knits and purls. It was the most leisurely class and yet one of the most productive.

La, I really do love teaching. I love the intimacy you get when you share the tiny movements of the hands and end up with beautiful knitted fabric. I love the swell of pride that beginners stretch into as they master something new. I get an enormous high just being the one to pass on information. I am - truly - a closet teacher. If I know something I absolutely must pass it on. I see people at the gym with their feet lined up wrong on a weight machine and have to whisper, as I walk by, "Line your toes up with the top". The first time I dyed fiber up at Stony Mt. I drove away thinking "Man I have to hold a dye workshop in the back yard!" There is a constant refrain running in my brain. Something like "Lookee lookee lookit! See how you do this?"

Hmmm. What am I talking myself into? More classes? But it's getting hot. Who wants to knit in the warm weather. Hmmmm. I see I must design a warm weather beginner knitter class. Of course, most folk seem to want to learn to knit those tiresome eyelash scarves. I don't mind teaching them, even if the yarn is difficult, you can't see what you've done, and you don't learn anything but cast on, knit stitch and bind off, but perhaps I can think of something a bit comprehensive to do with them. Hmmm. Yes. The brain is clicking.

In the mean time, I have 2 more classes in the My First Sweater series and one of them is tonight, when I am supposed to show them the crocheted steek, so I had best dash and finish knitting the baby sweater so I can steek it tonight. Ta. posted by Bess | 7:53 AM
---
3 Comments:
hi Bess-is the lunch Sat. or Sun.? Jane

hi Bess-is the lunch Sat. or Sun.? Jane

oops! Jane

Subscribe to Post Comments [Atom]



Monday, March 21, 2005

"Nothing like a wedding to bring about a wedding."



All the years I've been married to the Haile family I have heard this phrase. Hailes all love to trot it out whenever the discussion turns to marriages because Grandma's best friend met her husband at Grandma's wedding and my SIL's best friend met her husband at Sil's wedding. Haile crones would nod sagely and sit back with smug satisfaction, impervious to anyone's effort to dissuade them. They spoke with such surety I thought it was an old cliché. A cursory search for the phrase didn't turn up anything. I did find some interesting sites, though, and some interesting additions to my repertoire of the trite. How's this one for when you're in need of an extreme make-over?



I don't give a ****! Your the one who has to look at me!!



And how about clichés for when you are dead?



You see? I told you I was sick!



Well, I think they read more like Mad Magazine's snappy come-backs, but I will take a chuckle whenever I can find one.

To get back to romance and weddings, though, it seems a very lovely romance was struck up at TheWedding between my west coast sister and an old family friend. They both visited yesterday afternoon and we had a grand time catching up on things. The day was pretty enough to take them on the short tour of the forest, down BD's old paths. Mr. Bald Eagle bid us a good day. Mrs. BE is busy right now, in the nursery, but he gave us a mewling hello. He likes to perch on the big oak tree that stands guard at the bottom of my garden. He can keep an eye on the entire bay and pick up tasty morsels whenever something, usually a fish, gets careless.

TheDarlings joined us for dinner and brought wedding photos and WCSister and GD talked shop, since both of them are photographers, both for work and for play. WCSister has GD's dream camera and much snapping was done. Someone managed to get an ugly picture of me and an interesting one. After a certain age, a woman ought always to be photographed looking slightly up. Otherwise the only thing that gets captured is a graphical demonstration of the theory of gravity.

We sisters talked long into the evening and it was sad to bid WCSister good-bye, though her extraordinarily courteous man said "stay as long as you like" and never once squirmed in anticipation of getting started on the 2 hour drive home. What made it easier to wave them off was the welcome fact that she will be back in about a month. This is good. I say no more.

I will add the happy news that spring really is creeping across the landscape. The most notable evidence is not visual, though. It's the bird song coming in the windows every morning. It's a sweet sound, mostly made up of cardinal tunes, but it includes some other chirpy notes. I raked out one garden bed, only 18 more to go. What sort of idiot would build a garden that big? Oh - yeah -

me

. I will be busy as a ... as an ant, for the next 6 weeks and I still don't think I can get this garden in shape. It is in dire need of a rebuild. I doubt I'll get the whole thing done this year, but I will do some rebuilding - and maybe do some next year and I suppose I can always abandon some to the forest. We shall just have to see.

As for fiber content - I knit a few rounds on the baby sweater and I tried my hand at wet felting. Like other seemingly easy looking things - it's not. Not easy, that is. It is easy to stack your fibers unevenly and end up with thin spots or even holes. I will have to practice with this. Fortunately, I have boxes and boxes and boxes of roving and bats and fibers. I don't have to spin them all.

So. Today is our first full day of spring; that time of rebirth, that time of light. Less t han a week till I can have Chocolate again. posted by Bess | 7:38 AM
---
0 Comments:
Subscribe to Post Comments [Atom]



Sunday, March 20, 2005 Nothing can lift your spirits like a yard full of 6 year olds in long frilly dresses, squealing with the joy of springtime.

I was of two minds about exposing my darker side on this DiaryAsLiterature site. On the one hand, it's mine and I can durn well put what I want on it. On the other hand, I durn well better be ready to see it on the front page of the Times, or at least, to expect a phone call from my mother if I get too far off the GoodTaste-0-Meter, onacounta it's a blog fer cryin' out loud. It's narcissism to the max and it's public.

Anyway, it is true that I'm at one of those portals - those passages in life - that requires me to stretch out of my comfort zone. I am in awe of those wonderful people, who, when pressed into corners, come out fighting. I so admire the one who says "Stifle Me? Tell ME no!?! Just you wait and see!" Growing up, how I wished I had the backbone my sister had, stomping her foot in fury over what was UNFAIR or WRONG. Of course, even as a kid I knew that she would have gotten where she wanted to be with a lot less pain if she'd used patience, time and diplomacy. But oh how I honor her sheer physical courage. And patience, time and diplomacy only come to us when we know where we want to go, not when we are trying to decide.

Which is where I am. Yesterday the weight of deciding was just too much for me. I glumped and gloomed all morning, sending BD off with his truck, to help friends move heavy objects. Something told me to go to the gym and work out. I know that when I'm blue, a good hard sweaty aerobics session will lift my spirits. The urge to GoToTheGym was quite overwhelming. And the workout was uplifting, but it was what happened afterwards that really made me tingle all over.

M, the WW leader, holds a meeting on Saturdays at my gym. I don't go to that one because I try to avoid going back to town on the weekends. But she had said something at the last meeting about dealing with a life change and I wanted to quiz her on it. I finished up my workout as she finished up her class and we had a little time to chat. Turns out she has just retired - somewhat unexpectedly, after 30 years of working with the same bank. She told me how she had struggled with the decision (she can't be any older than I) and how she'd finally just flung up her hands in prayer and said "Okay, God - you handle this one" . And even as I was murmuring my usual "yes yes that's what you should do.." that tingly wave of self-knowledge washed over me. Heck. It's what I should do too!

What a load off. Just taking this "YouMustDecIDE" proviso off my shoulders was such a relief. Of course I must decide, but I don't have to decide NOW. I just have to look around some - with the idea that the choices are all nice, not with the idea that I will RUIN my life if I make some wrong step. And if I just shut up long enough to listen, I will hear the answer anyway. I know this. It's how I solve all those "what to do" problems anyway. All I have to do is ask for help. From someone who won't try to fix me, but will just roll out the carpet and say "step aboard".

Evidently, the preparatory worry and anxiety is something I do all the time too, though. What an utter waste of my emotional powers. What an idiot I am.

So, with lifted spirits I toddled off to BH's where the BirthdayGirl awaited 9 little princesses, all frilled and curled. BH had scheduled the thing from 11 to 2 and when I heard that I was appalled. An hour and a half max is a birthday party in my book, and part of that should include a meal. And the darling hadn't even thought about asking another adult to help out. Big Sister E and her girlfriend were manning a craft table, but it was good to have another set of grown-up hands and a second authoritative voice.

Happily, the day was sunny - the first sunny Saturday we've had in months in fact. The last 15 minutes were spent just running outdoors, riding bicycles, swinging on swings. It was so pretty, though, to see those fluffy frilly blossoms, floating like some Disney cartoon, against the backdrop of the first green grass of spring. I was never a squealie girl. I actually turned my nose up at squealing and I don't believe my voice could have even hit those decibels if I had wanted it to. But I enjoy listening to it when it represents the spilling over of joy and life, after a long wet winter indoors.

I didn't knit a stitch yesterday but I did cook an interesting quiche made with ricotta cheese and too much spinach. There were about a thousand other ingredients in it, but the crust was what really tempted me. The recipe is from a Weight Watcher's cookbook: WW Entertains: with the chefs from The Culinary Institute of America.

It's made with 1/3 cup of cooked wild rice, 1/4 cup of bread crumbs and 3 Tbls. of chopped pecans, mixed with about 2 Tbls. of water. This is pressed into the pie plate and then the filling is scooped inside. Baked for 20 min. at 370º.

Well, anything with pecans and wild rice has to taste good and I did like this recipe a lot, though I think it should have cooked longer and have had less spinach in it. Mind, now, I love spinach and I liked this dish, but BD did not. Next time I'll try mushrooms and maybe more eggwhites. The part that holds it all together, though; the egg whites and ricotta cheese, would welcome all sorts of delicious additions.

And today my west coast sister visits. She's on the east coast for a brief trip and is coming down to see us in the afternoon. This is enough to make even the gloomiest gal happy. posted by Bess | 7:43 AM
---
1 Comments:
Hey girl, hugs to you. I understand how you feel - I do the same thing when something is wrong that I have no control over.

Subscribe to Post Comments [Atom]



Saturday, March 19, 2005 Ahh sweet Saturday welcome at last. If I can't be inspired, at least I can be relaxed.

It's unusual that I can find nothing interesting out in that wider world, viewed from within the pod. I suspect I know what the reason is, though I'm not ready to bet the farm on it - but how strange to be experiencing this pulling in and shutting down. It's not exactly unfamiliar. At the ripe age of 52 I'm beginning to see a pattern, familiar, but not particularly pleasing: When confronted with a problem for which I can find no solution, I withdraw, deep into the cave.

Mama told me once that when I was a toddler and hurt myself - a cut, a fall - I would go hide in the closet. Unlike normal kids, who let you know something's wrong and demand help, I went undercover, like some wild animal. A sort of primordial control freak response - as if I were just a little closer to the wild state than the normal person. While I've learned enough first aid to handle the cuts and bruises to my body, I still creep off into the brush when the spirit takes a blow. Some blows, of course, are really easy to identify; job loss, empty nest, that sort of thing. Others, alas, are more insidious. They disguise themselves as bits of daily life and snatches of ordinary conversations. They can be so hard to identify it isn't until I find myself deep in the den that I realize SomethingIsWrong.

And unlike problems, that usually have solutions, a SIW issue usually means there's not a freakin' thing I can do about it but suck it up.

Rats. posted by Bess | 6:44 AM
---
2 Comments:
I've been writing my posts in Word and then copying them into Blogger. Too many lost for me, too, and really irritating ... :-)

Have a wonderful splendiferous (I love that word) weekend!

Hugs, Jen

What a sweet Girlie Girl! Of course, my DD takes the cake as the Princess! LOL!

Hugs...

Subscribe to Post Comments [Atom]



Friday, March 18, 2005
Give me an

F

! Give me an

R

! Give me an

IDAY

!


There must be some special alignment of the planets going on. I know so many people who are suffering from job burnout/ennui/boredom/frustration and the accompanying longing to be on balmy beaches with someone else doing the scutt work and lots of beautiful yarn on the needles.

So - if I must make my way through this slough of despond, then I shall just do so.

But oh I am so glad for the weekend.

Doubly glad since it is my little goddaughter's birthday party weekend. We have long since agreed on the preferred birthday and Christmas gift - This is a girlie girl of extreme proportions. She looks like a miniature Nicole Kidman with curly hair. This is the flower girl who wants to wear her FG dress to school. No T-ball for her, she is all ballerina. She gets porcelain dolls for both big festivals and they are to be of the frilliest. No clown dolls for her, we want princesses please.

Since the magnificent Sheryl has taken care of the dirty work in my house I have only laundry to do. How fortunate there is the promise of sunshine. The rest of my time will be divided between gardening and knitting. I am also just barely thinking about some spinning with beads. But I am on a deadline with this baby sweater. I'll attach the sleeves today but I am trying to figure out a right slanting decrease that lets the purl stitch gobble up a knit stitch lying to its right. I may have to take home all the how to knit books in the library and pour over decreases. Yes - I think a right slanting decrease in reverse st. st. might be how it would be listed. It doesn't really matter that the "gobbled" stitch is a knit stitch, what matters is how to make a right slanting decrease on purls.

I'm still a little leery about trusting a lengthy discourse to Blogger. I've had too many posts disappear, only to show up doubled or tripled the next day. I'll just end with this happy thought - There are only 11 days left of my Chocolatelessness! The Sunday after next I plan to indulge!! posted by Bess | 6:47 AM
---
0 Comments:
Subscribe to Post Comments [Atom]



Thursday, March 17, 2005 Well - I don't know why everybody else has been able to post to blogger for the past 24 hours and I haven't. Humph. Let me add that to the other things that have me feeling sorry for myself. And let me congratulate you that you didn't have to read yesterday's gloomy post.

My cyber twin, for different reasons, is taking her mental health day today, but I had to take mine on Tuesday. This was supposed to be such a super week for innovation and finding my own true path and I'm not getting there at all. My solution was to crawl into bed on Tuesday afternoon and sleep it away.

A super workout with TthePT helped too, pulling endorphins out of my pituitary glands (is that where they come from?) But I had better plan on getting one a day, at least, for the length of this bout with the blues.

And since blogger has been playing havoc with my posts for days now I will end here with the happy news that I'm knitting the second sleeve of the pretty baby sweater. I'll finish everything but the steeking by Tuesday, when we have our next class. Then I'll go back to MOH and finish that baby no matter how much yarn there is. posted by Bess | 7:09 AM
---
0 Comments:
Subscribe to Post Comments [Atom]



Wednesday, March 16, 2005 Old habits die hard. They represent neural pathways that have been trodden so well that they have worn a deep rut in our brain. New resolutions require us to be constantly conscious. The minute we forget to pursue change, precedent starts to pursue us. Even so, you now have a rare and wonderful chance to attempt an important innovation. Keep reminding yourself that you want things to be different, and you'll find they really can be.

Hip! Hip! Go! Go! Go! You can do it girl.

ahem.

yes.

Some cheers for the despondent up there. I am having the absolute dickens of a time pursuing the needed changes in my life. It's as if an evil sticky web is clinging to my spirit, not just making me eat too much and fail to get into the serious discussions that need to take place, but depressing my normal ebullience. This low grade sadness/stress has comes with it's own unwelcome side effect - menopausal temperature fluctuations. I had them all the time while I was working on TheWeddingDress until I reached that point where I knew it was going to work. Worry seems to really bring them on, and I'm having a nice rash of them this week.

Hmm. The taxes have been taken care of, so I ought to feel better, but I'm dont. And I'm eating like a mad thing - that "fill up the empty spaces" type of eating that just piles on flesh in the most un-summerish places. Eh. Nothing for it but to keep working on those changes.

Keep the Faith Babeeee.

So - on to something else.

Nobody who reads this is unaware that I like clothes. I like to read about fashion and to think about it. I like to understand how clothes are made. I like to examine the lines, textures and colors as much as I like to fantasize about how they'd look on me. I may not take up the latest and the newest, but at least I keep a finger on fashion trends. So this morning's latest NYT spread is all about the "new" slim suits that are going to chase the full skirts off the streets and out of the offices. Hmmm. Okay. I am trying to remember when full skirts came into fashion here in the southern fringe of the east coast. The last time I saw full skirts in the work place (which is where most women are today) was in the high '80's. Mind, now, I liked that look, but I don't wear it now.

The trouble with fashion, of course, is that even if you like it - where do you get to wear it? I have to go to work, you know - I can't slouch in with my sheepskin pea coat, Klondike hat, and chiffon pleated skirt. (And why is it that designers think that same old tweed-over-chiffon is "new"? Why do fashion reporters say it is? Wearing your boyfriend's jacket is as old as ... as old as you are!) What I have seen so much of for the past 5 years, is a very unflattering, fairly slim, flat, ankle length skirt, pulled into the waist with elastic instead of darts.

Now, I admit, I live in a true fashion backwater, and I am also smack in the middle of middle age - if one accepts a definition of middle age as TheWorkingYears - but -AfterYouCanNoLongerWearPatternedTights. This very unstructured and very ugly look (think a tank top that extends to the floor, only, not knitted, but made of woven rayon - with a little jacket over top) has been the uniform du jour for so long I would almost even welcome a '60's rehash just for the change. And you might remember the trouble I had last summer, trying to find a plain knee length skirt. Something I could wear to work. With a jacket or without. An entire mall was able to produce only 2 such garments.

But what made me chuckle about the article was the slide show they ran along side it. If I hadn't looked at the show I might have dispaired about what to wear next fall. Instead I found something that really does have a place in the normal woman's life. Does this look like a slim suit?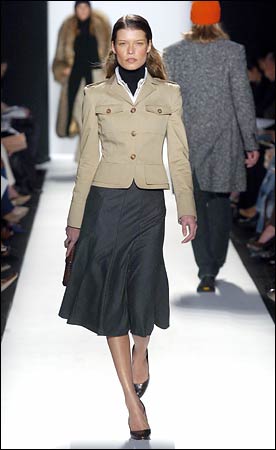 But for a bit of my past come back as style, here's this bit of knitted retro from 1973. I remember I had a hat just like that.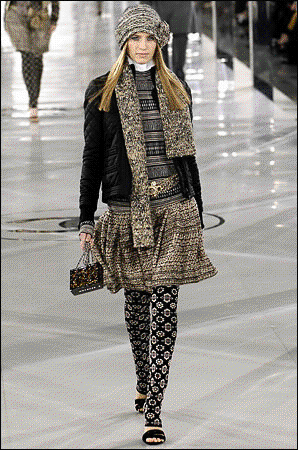 If I had that same youthful jaw line I'd probably have another.

Okay - enough fashion talk. Except for baby fashion - since I am knitting away on the baby sweater. Working on the sleeves. I'll finish it all up except for the kitchner stitch at the underarms and doing the crocheted steek. I'll save that part for my class next week. And then I really will have to turn my attention to Mountains of Lace. I'd like to have it finished before MdS&W. posted by Bess | 7:16 AM
---
1 Comments:
Can I join you and Catherine and make it a trio? ;-)

Subscribe to Post Comments [Atom]



Monday, March 14, 2005
Baby Sweater Swatch

Girl Baby sweater.
Lots of pretty pinks and lavenders. I love this lace stitch - it's the same as the one on my Brooks Hill Farm sweater (the one languishing because I have FearOfRunningOutOfYarn)

Ididn't want to knit the body in plain stockinet. Too boring by half. But I do want it to go fast. Also, I want to keep the feel of those points running through the whole sweater. So I knew I wanted some sort of purl stitch to separate wide columns of stockinet. I finally settled on a P,K,P with the K stitch slipped every other row. That's the middle one.

10 more rounds of that to do on the real sweater and I can begin the wee sleeves.

posted by Bess | 10:41 AM
---
0 Comments:
Subscribe to Post Comments [Atom]

I finally got 12 hours of sleep in one blissful stretch of time. I've been running short on sleep for about 10 days now and it was beginning to show. I started out on the floor by the stove (with the dogs), then, like Dagwood, I moved on upstairs to the bed. Sweet, sweet BD tucked me in, read me a bedtime story and then left me in the arms of morpheus, who restored all the good humor exhaustion had thrust out of my normally sunny disposition. Now I am fit to live with again.

And I am done with my taxes. At least, as done as I can be. It's all up to the professionals now. The only task left will be to write the check.

Left on the great Table Of Life Clutter To Clean Up:


A new personal finance plan (quit spending so much $$ gal)

Lose that dreadful 10 lbs that sit on me so unbecomingly

Do something with the garden.

Hmmm. Two out of three ... I'm still in a parallel universe with Catherine, I see.


I think - if I can get a handle on those three, I can let the stash go. Of course, the finance plan means not adding to the stash, but I shan't beat myself up any more for having a large one. It's not obscenely large - just very very very very very large.


On the Fiber Front


I made a big swatch with the dyed superwash merino (I'll post a scan of it when I get to work), did some numbers, then cast on for the first of the Baby Gifts. I like how it's looking very much. I'm actually making a 12 month size sweater because I want this baby to get to actually wear the thing and she's going to have to make it through a Virginia summer before she can. She'll be nearly 5 months old by then. Baby things are fun. I could really get used to this.


And I had a good laugh with GD about what we'll want for OUR baby when OUR baby comes. I promised her that I will do the hand washing for her so we can use that high end yarn. WE intend to raise a PRINCESS BABY. And she didn't bat an eye about me staking any claims on future Wee Darlings - in fact, she fell right in with the half-jokes.

Tonight I have the 2nd MyFirstSweater class - we'll put those sleeves on and talk about ways of decreasing the yoke. I hope we'll have time to teach them the crocheted steek and turn the little sweaters into cardigans, but if not we'll get to that next week, along with different edge treatments. Next week we'll go into making human sized versions of this design and adding individual creative details. The last week will be to design real sweaters for each student.


Tomorrow is the last beginner class, where we will just do some refresher stuff, making a little pouch to practice casting on and binding off. How sweet to have added 2 new knitters to the fold.


posted by Bess | 7:42 AM
---
1 Comments:
MOH is looking fabulous!!!

Just thought I'd leave you a note ~ cannot WAIT to see you!! 53 days to MD!!

xxooooooo

Jen

Subscribe to Post Comments [Atom]



Sunday, March 13, 2005 Ahh Margaret - that is some outfit, isn't it? Still, I rather liked the idea of seeing myself as dramatic and ... what was it? exotic? I suppose in rural tidewater VA I am a bit of a bird of paradise. Nice to be able to pull that off in a sweater set.

And Jane - I got the email about the shop opening. Please let me know what you think. The location certainly is sweet for me.

But though I couldn't be at the newest LYS within a 50 mile radius, I did get to make a fiber connection. M, from the Knitters Review Forum ,was down for the weekend and we met face2face for the first time across the river in the little town of Warsaw. Both Tappahannock and Warsaw lay claim to being the site of the Rappahannock Indian town of Toppohannock, though BD, my expert on this, says that towns for the indigenous peoples were different from European villages. The river and it's marshy fringe was both highway and farmland for them, full as they were, of turtles, fish, muskrats and mallows. Towns often straddled the river as if it were a main street. For the European settlers, though the river was certainly a highway, it was also a barrier that, though spanned now by a modern bridge, still separates the two land masses on it's flanks. I never shop for groceries in Warsaw, though it is only 3 miles further than the grocery stores in town with none of the traffic congestion or bullying semis smashing their way through a colonial side street, as we have in Tappahannock. I know it's that river barrier that keeps me on my side.

What will get me over the river are the things I can't get on my side; my WW meetings, the wheelchair rental place, the community college, and the nice little wine and cheese shop, where I met up with M, for lunch and a long get-to-know-you chat. What fun to talk yarn with a fellow enthusiast.

And that was only one of the really sweet happy things to fill up a Saturday. Earlier in the a.m. I'd pawed through my stash and unearthed 1,000 yards of undyed Kona Superwash! Just the thing for brand new baby gifts! It looks like a sport weight but I'll have to knit with it to be sure. I'll start out with size 3 needles. It was in two enormous hanks and I plopped one of them in the dye vat, to soak in a synthropol mix till the afternoon. Since I know the first baby-shower baby will be a girl I had Easter egg colors on the brain and I dyed this yarn up in a blotchy speckle of green, pink, yellow and purple, leaving lots of white spaces. It is always difficult to tell how things will turn out, but this certainly looks spring-like and girlish. I wish there had been a little less green and a little more purple - but it's still cute and I've got it on the swift right now - ready to be wound and cast on. Photos will come the end of the week.

The evening was a gourmet treat, because it was the annual Wild Game Dinner sponsored by the local Hunters for the Hungry chapter. Held at TheWedding church, shepherded by our favorite minister, and prepared by the MenOfTheChurch - it was a taste adventure. P&D came down from Richmond - it was the first time I'd gotten together with P since the wedding - and TheDarlings came, so we formed this happy family group within the greater clan. I must confess - I am relishing my role as matriarch, with that proprietary gleam spreading across my face as I gaze at my darlings, free to fly independent, and choosing to share it with us. I get all the mother fun love stuff but I'm long done with the parental disciplinary chores. They're all grown up just fine, thank you, but isn't it nice that I get to watch?

Afterwards we all gathered round the stove for cups of illicit night time coffee and poured over the glorious wedding photos again. Happily the photos are available for viewing on-line and just in case you wanted to have a look here's what you do:

1. Go to www.pictage.com (Internet Explorer 5.0 or higher recommended).
2. Type Bride's Last Name (Stokes) or Groom's Last Name (Haile)
3. Click on the Bride's & Groom's names.
4. Fill out the information on the New User's Page and click Register.
in the Search for an event window. posted by Bess | 7:25 AM
---
2 Comments:
Goodness, Girl! You're Hot Stuff!!

Hi Bess, It's Jane from Midlothian and I just heard the Yarn Lounge in Carytown opened today. We're heading that way tomorrow to check it out. WooHoo! Jane

Subscribe to Post Comments [Atom]



Saturday, March 12, 2005 VIRGO
(Aug 24 - Sep 23) Sometimes, we have to be quick. Opportunities rise up suddenly before us, and then vanish. Every so often, though, we encounter possibilities so positive and so perfect that, even if we fail to recognize them immediately, they will sit around waiting patiently and politely until we see their value. The influence of this week's harmonious alignment, from Mercury to Uranus, is being extended by the imminent change in your ruler's direction. That's a real, rare gift. The right kind of change simply has to start happening in your life soon

I just love it when things line up for me and I am surely ready for them to do so. Especially when the right sort of change is waiting up ahead. I am ready for change. Sweet change. Substantial change. Change, only for the better, of course.

The first change I am longing for is change of season. We are having weather that is as weird is it's possible to get, taking me from shorts and t-shirts to snow boots in the same day, while throwing in a little lightening and thunder and hail, just for fun. Now, I love storms and snow and snugly cold days. But if we aren't going to have enough snow to let me stay home, I would prefer springtime warmth and a little green, please. I am even willing to accept, with grace, that curse foisted upon us larks, by all the night-owls of this world; Daylight Savings Time.

But I'm also ready for some deeper changes. I am finally doing the assessment that I devote the month of January to. This past January I was occupied elsewhere and happily so. Now I am hearing the clamoring of my inner Bess, asking why I haven't done anything about this and what do I intend to do about that. And when ever am I going to clean up that mess over there!? There is so much to think about and ponder and consider, I can barely write this entry. Each time I start to type, something else whispers from the frontal lobe, reminding me of MoreToComeThanWasEverForgotten.

Eh. If I have nothing to say, I ought to just log off. So here are the final bits of gossip from the throne room.

There are 4 babies coming into the world this spring and summer and at least two of them deserve gifts from the needles. Alas. I don't have any yarn suitable for babies. There is plenty of wool, a bit of alpaca, some lovely silk. But there is no superwash wool, other than sock yarn and there's not enough of that to make baby things - and there is no cotton or acrylic either. While I actually enjoy handwashing beautiful sweaters, I'm not likely to spit up on them. Nor will I have a crying baby, a husband wondering where his clean clothes are nor any of those other special burdens that keep young mamas from the pleasure of delicately washing their beautiful wool garments. I just can't bring myself to curse a brand new mama with handwashables. This means I will have to do some sort of shopping soon, since the first of the baby shower is April 12. (Now, isn't that just tooo bad?)

The only knitting available to me this weekend is Mountains of Hearts - and I am nervous as a kitten about that because I know some time soon I will just plain run out of the solid color wool. It's so easy to just set it aside when I'm dreading something about a project.

Well - I hadn't even realized I was in the quake and tremble mode. Humph. Be Off With You, Oh Baseless Fear. I intend to knit on this sweater till there is no more yarn.

The Queen Hath Spoken.

And the final bit comes to you courtesy of CarolynH.



You're Lili St. Cyr!




What Classic Pin-Up Are You?


brought to you by Quizilla



Hmmm. That's some outfit. posted by Bess | 7:44 AM
---
0 Comments:
Subscribe to Post Comments [Atom]



Friday, March 11, 2005 Well - I did at least work on the taxes. They aren't ready to turn over to the man, but ... they are further along.

We had the Darlings over for dinner yesterday and it was so wonderful. For the first time it really struck me - I don't have to send GD back! She doesn't belong to some other family, some other world, she's ours - she's mine! It was the sweetest feeling. We had a long evening of floating dreams in the safety and security of a PlaceWhereYouAreLovedAndWanted.

Alas - I set an enormous heavy box of books down on my finger yesterday and it pains me to type - so I shall be brief today. It was not a fiberly day but I am going to have a fiberly lunch Saturday with a KR Forumite - a first meet up at a nice lunch spot. If it doesn't snow too much!! And I have class again at Crack-0-Dawn, so I am off. posted by Bess | 6:42 AM
---
0 Comments:
Subscribe to Post Comments [Atom]



Thursday, March 10, 2005
When is a half better than the whole?


When it is a half day off, of course. Which I get today because I worked till 8 yesterday. We had an adult ed class come for a tour during their evening session. I also had to finish and turn in a heavily justified, with graphs and charts, budget request by 4:30 - which I just managed to do. No slipping away for a long lunch when that sort of thing has to be done. I had actually forgotten all about the budget and only remembered it last Thursday. The library board has to ratify my requests to the county so it was a scramble getting all the meetings in on time. Well - I can blame it on TheWedding this year and maybe I'll do better next year.

I did very little knitting yesterday, though I finished up the second sleeve to the underarm. Then I got out my trusty calculator - it was, after all, a math day - and figured out the shaping for the underarms and shoulders. I have Ann Budd's Knitter's Handy Book of Sweater Patterns, which gives good directions for shoulder and sleeve cap shaping, so I think I have all the math figured out. I am thinking I have just a little bit more of the body to knit - perhaps 5 rows - and then I'll begin the shaping.

This is the first flat knit sweater I've done in years. 2000 was the last time I did a sewn sweater. Since then I've worked on mastering nice finishing techniques - one reason I decided to give this sweater a go. Sewing in the sleeve will be the most challenging part for me - for that's the part that can look so bad. Ahh well. I have confidence to prop me up and a great desire to have a finished sweater to lure me on.

But that is for tomorrow - at Tara - because today, when I get home early (after grocery shopping and a visit to the gym) I will DO TAXES. posted by Bess | 7:46 AM
---
1 Comments:
Whew, I finally got into the comment room to tell you I absolutely "LOVE" the MOH sweater! It is truly striking - yum!

Subscribe to Post Comments [Atom]



Wednesday, March 09, 2005
It's March Mathness!



Thanks everyone for the kind words about M0H. I'm really enjoying knitting this baby and hope I'll have it finished in about 2 weeks. Of course, somewhere in those 2 weeks I simply must get the taxes to the accountant. BD argues that I should just dump the stuff on his desk and let him figure out what else I need to give him. I say we pay for that and I can surely organize paperwork for someone else to compute according to the ever fluid tax laws. All the arguing gives me a good excuse to do nothing so that we'll be end up dumping or worse yet - late! Ugh. This is just so stupid. (by now you should realize that I missed last week's tax goal of getting the stuff to Les by Monday.)

Ha! well. it's a dark time when I can go from thanking people for compliments on a pretty sweater to berating myself about slothful initiativelessness (oooooo - fun word, there). Look a bird. I am feeling horribly ENFP-ish this morning. Shall we flit?

Perhaps I ought to get off this machine before my entire range of idiocity is displayed.
What else is going on to make Bess weird? Ahh yes. Budget time at the library. Sheesh. I hadn't realize just how much money looms in my life about this time every year. What a compilation of stresses. My county budget is due today at 5. We're asking for 30 more staff hours this year and I have pulled together stats that show not only that we need them, but that we are - if not the best small rural library in Virginia - at least way up there near the top. Of course it's all in how you count the numbers - or even if you count them. But we do have some good numbers to puff off.

Staffing dollars are always the hardest to get. Computers are always the easiest. But this year the county administrator brought up to my library board chairman the topic of staff and asked if we didn't need more people working there? That awful sound you heard yesterday at about 11 o'clock was me shrieking because I have 5 years of letters written to him explaining why we need more staff. Of course, we ask, but the board of supervisors decides. Still - we shall ask.

I'm also crunching other numbers in other areas of my life and feeling the pressure to put them all in neat columns that add up to satisfaction down there along the bottom line. Even knitting is moving into the math arena. I am just about finished with the body-up-to-underarms of Mountains of Hearts. Perhaps 6 more rows and I will begin the bind off portion. I have some solid color left. I am willing to state that I don't have enough. I shan't know, of course, till I get there. This being the case, and noting that I'm not knitting this sweater all in one piece, I will have to work on the body some, then the sleeves, then the body, then the sleeves. I don't believe I can knit on just one sleeve while I'm knitting up the solid because I have to be sure there is enough for both sleeves. I'll be switching between 3 sets of needles every inch or so. There is about 10 inches, or 60 rows of knitting to do on each set.

So - 2 weeks? I hope. And then I guess I will need buttons. Hmmm. I want something really nice for this - pearly ones, or shell.

After that, though, I have some baby things to make. There are so many Haile babies coming into the world this spring and summer we will soon be able to take over. Bwa haa haaaaa. Not yet, a grandbaby, but lots of grandnieces and grand 4th cousins. I am in Virginia, after all - birthplace of the Jeff Foxworthy joke.

Okay - I am blithering now - I think I'll go look at that income tax box. But in honor of the math season, I thought I'd bring back a favorite old cartoon.



MORE MATH MAGIC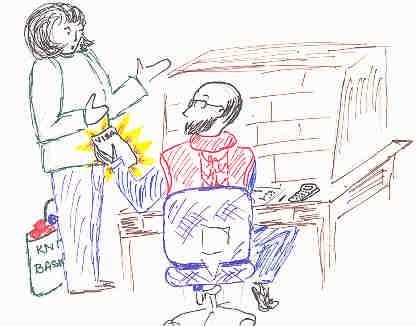 If Bess gets 5 stitches to the inch and
She has a 24" circular needle and
She is subscribed to 4 knitting magazines
then
How many hours will it take to explain the 10 balls of cashmere on the VISA bill? posted by Bess | 7:28 AM
---
4 Comments:
Gracious, Bess, that's just beautiful!!! This should be a Jen kit - I can't think of enough synonyms for gorgeous!!!

Love,
LYLY

The sweater is gorgeous! The pooling in the lace section just helps blend the two yarns in the overall garment. I'm looking forward to seeing the completed sweater.

Good grief. Another must have Nicki Epstein. I never got a birthday cake this past year, and I ask you why that wasn't given to me? Too adorable.

And you - oh, that beautiful sweater with what I don't even call pooling, just plain beautiful, and all crafted by your loving hands. That's a beauty of a job, sweetest...

I love the colors in your sweater! Its just lovely.

Subscribe to Post Comments [Atom]



Monday, March 07, 2005
Today I Bring You - PHOTOS!!
And a gripe


So I wrote clever witty interesting valuable wise profound comments about ThingsOfImportance and Blogger ate it.

That was the gripe.

Now for the grossly trunkated photo captions.

In lieu of having anything worth while saying today I offer here some progress shots of Mountains of Hearts. This first is a photo of the body of the sweater, unblocked, of course, and showing the two colors. Some folk don't like it when color pools, but I do - of course I like it when it doesn't too, and sometimes I like it when it stripes. But I just like this yarn all the way around. It's not quite as dark as the photo shows, but the hue is fairly accurate on my browser.





Here is the blocked sleeve showing the lovely transition from variegated yarn to solid color. It's about 17.5 inches long.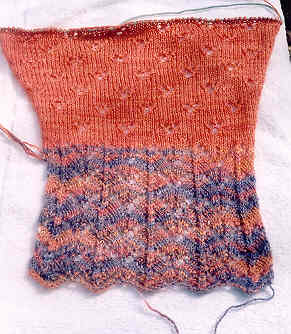 Here is a close-up of the "Mountain" lace. Some folk don't like color pooling but I don't mind it and I like this very much.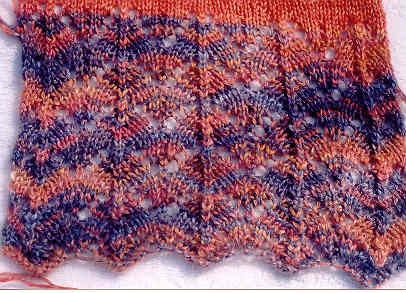 Here is a close-up of the "Heart" lace.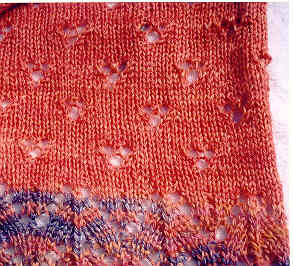 Cute, huh? And what follows is the photo that prompted all the lost verbiage - thoughts of greatness on the nature of sacrifice and diet and whatever. All gone, forever lost to the electric field of blogland. (so she posts prior to being embarassed by blogger actually posting both of these entries back to back just to make TheQueen wrong.) Still, this does make a rather darling Knitters Birthday Cake, doesn't it?





And now - post it da capo. posted by Bess | 3:12 PM
---
2 Comments:
Oh no! Now something else for the "must have" list!

There's always room for another Nicky Epstein book! :D

Subscribe to Post Comments [Atom]

Woah - so how many edges, borderes and ribs can this woman come up with? She's going to be joining Barbara Walker, in the list of encyclopedic pattern gatherers, at this rate.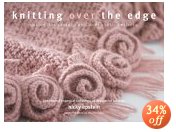 Due out in late July - I know I'll buy it for the cover design alone. I am a big fan of all her work anyway. She's so distinctive I can nearly always pick out her work in magazines, before I discover the designer.

And obviously I'm not working - but it's lunch break time. posted by Bess | 12:33 PM
---
0 Comments:
Subscribe to Post Comments [Atom]

Yesterday was a great fiber day. I did a little wheel spinning (at last) and a good bit of knitting. I'm nigh on to finished with the second sleeve and got a bit more knit on the body of Mountains of Hearts. It looks like there may be a little more solid color than I thought - though I will still have to do the shoulder bits in variegated - I am sure of it. The frustrating thing is that about 10 inches into the body I could tell I'd made it too wide. Not so much too wide that I couldn't wear it - it is, after all, a cardigan sweater - a little roominess is welcome. But it could have been narrower, giving whatever had been lost in width to the length. Ahh well. I ripped that lace out twice - I wasn't going to rip it out a third time. I will know better another time.

The spinning was a shock - I am SO out of practice. I had 2/3's of a bobbin full of lace weight natural blue (think cloudy grey sky just before a storm) mohair and I really don't want to begin another bobbin of something else. I'd made a control yarn so I knew what to aim for when I took up the wheel again. But oh la! It was so hard to match it. I spun and spun before my hands began to create that same yarn again. It was good, though, to get back to my wheel.

Tonight we will try again to start up the My First Sweater class - the one canceled by last Monday's snow. Today it should hit high 60's. That's Virginia in March. I am going to make a wee sweater along with the class but I found the coolest ruffle in Knitting on the Edge, by Nicky Epstein



that begins as a 3 X number of wanted stitches! Now, the EPS swetaer yokes also begin decreasing by thirds from 3 X number of wanted stitches. Is this cool? I have 3 baby sweaters to knit before summer. this makes a somewhat girlish looking design - but fortunately, the first baby to knit for is a known gender - a girl! Woo Woo. This is going to be fun.

Okay the bad news. I did NOTHING about my taxes this weekend. This is seriously bad. This is wickedly stupidly rottenly dangerously bad. I will take the folder with me today and ... stare at it at lunch.

Photos tomorrow. posted by Bess | 7:27 AM
---
0 Comments:
Subscribe to Post Comments [Atom]



Sunday, March 06, 2005 It turns out I didn't go with BD today - and I am glad to have a glorious day at home ALONE with my toys. The bed's already made, the laundry is in the machine, I'm dressed for a long hike out to the 3 mile point and there is film in the camera bag. On this sunshiny day I will photograph the pieces of Mountains of Hearts and maybe some other things in my Land-0-Fiber. Thanks to the wonders of WalMart 1 hour photo they can be posted on Tuesday. How lucky for you.

Yesterday's trip to the city with BH&Girls was to watch a cute little musical about Laura Ingalls Wilder, Patchwork, written and performed by the theatrical folk of Richmond, VA. There is a nice little theater world over there and I really would like to partake of it more often. Alas, that hour and a half drive, one way, can daunt the most literary of us, so I don't follow my inclinations as often as I'd like. It makes the times when I do all the more sweet. Laura was the pivotal writer of my youth - one who's voice can pull be back still, nigh on to 50 years later. I was such a slow learner back in those baby boomer 1950's that, had I been born a generation later, I'd have been put in an LD class. I still struggle with typeface and reading, in fact, some of my difficulties have come back to me as my eyes have aged, so when I finally did learn to read, that first book, Little House in the Big Woods, was the perfect soul mate to my inner country girl.

After the play and lunch, we went to a very well stocked Ben Franklin and bought fabulous crafty stuff; yarn, a second set of bamboo double points for me, and oh, some other goodies. I am staggered by the plethora of fabulous craft supplies out there. Thank you computers and laser tools. There were abfab sticker books on sale for 99 cents and I picked up half a dozen of them for the library Story Hour. Wow - how the yarn selection has changed in the past few years. I used to be grateful if I could find wool anywhere outside a real yarn store. If only someone would start carrying plain colored sock yarn my cup would be full. I like multicolored sock yarn, but I really love my own stripes much more than the yarn companies'.

It snowed a slushy snow all day, melting on the warm ground before anything could build up, but pretty coming down. I was home by 2:30 and sipping a rare mid-day cup of coffee and knitting by the front window by 3 p.m. Since I was pretty far along with M0H's second sleeve, I decided to block the first sleeve to see if it was long enough. You can't tell with lace, till it's blocked. Oh how much I love blocking. And how beautiful this sleeve is, all plump and flat and smooth. It is long enough - 7 repeats of the heart eyelet (6 rows of knitting) takes it right up to the point of shaping the upper arm and sleeve cap. I'll finish the second sleeve to that point and knit some more on the body. I will put at least one more repeat of the heart eyelettes on the body and see how the yarn is holding out. I've already accepted that I'll need to do the top of the shoulders with the variegated yarn and I'm even rather excited at the thought of putting this self scalloping design back into the sweater near the shoulders. I'm very curious to see what sort of effect it will have on the sweater. I'll put in one repeat of the "Mountain" lace and then switch to stockinette for the very tops of sleeve caps and shoulders. If I don't like it - I haven't any idea what I'll do with this sweater. I'll think about it then - at Tara.

Right now I'm off to hang up laundry and take a walk with the pups. posted by Bess | 10:15 AM
---
2 Comments:
Ha! You should see the TV ads Kirstie Alley is doing for her show ... man, she looks HUGE. Not that that in itself is a bad thing, she's dancing around in a sexy red dress ... but for some reason these ads are sort of turning me off.

Can't wait to see the sweater! It was so beautiful when I saw it last month in its early stages ... can't wait to see if finished!

Love, Jen

Catherine has started a basic feather and fan shawl from her Shimmer. More about what I think of it on the blog, maybe even a picture (of about an inch and a half of whatever) tomorrow. As for Fat Actress - I can't tell. It could be brilliant, it could be a dog. There certainly is comedy to be mined in the subject of being Over 40 and Far from Anorexic in Hollywood, with good writers it could be fun. But I will probably forget to watch it anyway.

Subscribe to Post Comments [Atom]



Saturday, March 05, 2005 Another short morning today - with not much to say anyway. I'm off to Richmond with BH, as I mentioned yesterday. Should be back in the late afternoon. BD must go to Maryland tomorrow and invited me along. He's aswamped with Jamestown 2007 activities, of which this trip would be one. My first thought was "yes! 6 hours in a car to knit!" but I am having second thoughts about going 12 days without a nesting day at home and think I'll back out of it.

I have begun the eyelet portion of the second sleeve on Mountains of Hearts. Every morning, when I make these posts and mention the M0H sweater I tell myself to buy some film during the day - and every day I have forgotten. Perhaps I shan't today. I really do need a digital camera. Fortunately, courtesy of my job, I will be taking a class on digital cameras and their use next month. Maybe then I'll give in to the urge to purchase.
Or maybe I will be paying off Uncle Sam.

Humph. No need to talk about that - back to M0H. I really do like this garment. I like knitting with this yarn. I like the silky way it slides across my fingers. I love the colors. I hope I haven't made the body too wide - but it is, after all, a cardigan. It doesn't have to be tight. If I am really really happy with it - I'll contact Brooks Farm and see if they have a close match to the solid color and make a shell to wear beneath it. I am not a big one for sweater twin sets. I've been too fat for too long to add the bulk of two sweaters to my body. But this yarn is silky and lovely and ... just begs to become a sweater twin set.

Speaking of being too fat, though ...

I was very curious about how Fat Actress is going to play out. I haven't had a TV for fortylevendy hundred years, or since 1975, which ever is closer. I never saw Christie Alley when she was on Cheers. She was always just a grocery store tabloid victim to me. In fact, if I go too long without visiting mom or some other place where I can see what particular brand of thinness is being presented in nighttime television I will lose all concept of what is a desirable silhouette. I know what I like to look like and I know how most of my rural contemporaries look, but what is "in style" is pretty much off my radar.

I did, though, just read the NYT interview with her, and was really turned off by Ms. Alley's statement:
"I think dirty actors are just funnier," Ms. Alley said in the interview. "I just really think that's where four-letter words shine, in comedy. We say anything we want."

Hmmmm. I really do love a good laugh. I'm not particularly prudish. I admire the boldness of bringing up body issues via comedy or pretty nearly any other media or medium. I confess, I can even laugh at slapstick, and the women slapstick artists are often the funniest to me. But I am very repulsed by gratuitous foul language. It's not funny. It's embarrassing. It's gross - like verbal vomit. It's what would keep me from taking my 13 year old nieces to see a movie that otherwise deserves attention.

Mind now, I swear too. There are times when a good shocking cuss word is absolutely the best choice possible. But stream of cussedness talk only deadens my ears, waters down the impact of the words, and ultimately makes me wander off. I may still set up the recorder at the library to tape the show so I can see the first episode - but - I might not, and probably wouldn't miss too much. We'll have to see. But durn. What a disappointment.

So - it's off to Richmond for me. The new yarn shop is not open yet - probably a good thing. I really don't have the disposable income and I do have a mountain of stash. I am wondering, though, what Catherine decides to do with her Shimmer. I am thinking lace stole for mine. posted by Bess | 7:06 AM
---
2 Comments:
Well, what was the answer? Did you get tons of knitting done?

Nary a stitch - but the teacher was just too interesting to knit while she spoke. Lots of hands on stuff too.

I'm knitting today instead.

Subscribe to Post Comments [Atom]



Friday, March 04, 2005 Just a dash in to sigh with pleasure that it is Friday - sweet sweet Friday. The opportunity for a perfect haircut comes at 7:45 and the chance to knit for hours comes sometime on Sunday. I forgot I promised to go see a play with BH and her girls on Sat. a.m. That is no hardship and we'll have a chance to scope out the new yarn shop in Richmond.

And the question is . . . How Much Can Bess Knit on Mountains of Hearts While She's In Class This Morning? posted by Bess | 7:02 AM
---
0 Comments:
Subscribe to Post Comments [Atom]



Thursday, March 03, 2005 It's the beginning of the month again and I have lots of early morning meetings. Not much time to write today, or tomorrow, btw - but then - not much to write about either. We're still diddling around with tax junk - a great way to depress an evening. And then we watched the horror spoof Sleepy Hollow. I am beginning to see something I like in Johnny Depp, who has been an actor I have disliked looking at for years. I'm seeing subtlety there I hadn't noticed before. I still find Caribbean Pirates (or whatever) creepy, but I won't automatically reject a movie because he's the star anymore.

Knit a little on the Mountains of Hearts sweater - I'm about to switch to the solid color on the second sleeve. It's calling for rain this Saturday and I believe I will pop in all my spinning videos and knit that sweater all day.

Woke up with that dratted dizziness of last fall again. In fact, last night BD noticed something funny in the way I was moving and asked if the dizziness was back. I didn't think so, but this morning when I rolled over ---ugh--- So, I am back on the AlegraD. This does not bode well for gardening. I believe it will be a boxwood garden after all. ah well. This is not the sort of thing one fights - this is what one adapts to.

Okay - off for the first a.m. appointment. posted by Bess | 6:59 AM
---
0 Comments:
Subscribe to Post Comments [Atom]



Wednesday, March 02, 2005 This morning is a crisp blue chilly one - with the promise of snow flurries tonight and tomorrow. Now, I don't mind snow flurries, but I would rather have a gigantic heavy dump of a snow storm if it's going to snow enough to snarl traffic anyway. March is making a truly leonine entrance, let us see how sheep-like is its exit. Makes me wonder what sort of summer we shall have.

Last night my students got started on the decreases at the tops of their hats. They had both finished all the color pattern work but one of them had knit every knit stitch into the back loop and twisted every stitch. It's extremely pretty. It is also as inflexible as a board. I hadn't the heart to tell her to rip it out. We shall just finish it up - although I wonder if she will be able to wear the thing. She has a very small head and I'd scaled back the pattern to fit her better - but with the whole thing knit in twisted stitch it is likely to be too small.

I explained to her what the problem was, though I didn't tell her it would never fit her - because it still might - though it will have more the look of a Jackie O pillbox than a snug outdoor cap. Well - we shall have to wait and see.

But what she had done gave me a tremendous creative popping idea. Her tight stranded stitches had the look of very fine pettipoint. I thought of how beautiful that would be as a buttoning cuff treatment, with a bloused sleeve over it. Even a loose lace stitch over this stiff beautiful embroidery effect would work. I am itching to cast on and give it a try.

They are invited to next Tuesday Night Knitters group where I will help them finish off the hats if they don't understand something in the directions and where they can meet other stick and string folk. I will give them one last class of refresher stuff, with cast on and bind off and how to knit stockinette stitch flat.

I'm still stitching away on the second sleeve of Mountains of Hearts. I also pulled out tax stuff yesterday morning. At least, I pulled out what I could find of it. I think one important piece is missing, though I know I can get a copy of it, if it ever existed. But bah humbug. And of course, BD will have to do a major pull-together himself. Well, we're going to go over the game plan tonight but the goal is - everything at the accountant's on Monday. Let us hope I do better with that goal than I did with my WW one, about which, the less said, the better. posted by Bess | 6:44 AM
---
0 Comments:
Subscribe to Post Comments [Atom]



Tuesday, March 01, 2005 We had the sloppiest of days yesterday. By 9:30 there was a pretty slick coating of snow on everything except the road, which was merely wet. The temptation to stay home was great, but the knowledge that I had ThingsToDo was greater. An important conference call at 2 guaranteed that I would stay till 3 but I postponed the MFS class to next Monday. That was a sure fire way to get the temperature to stay well above freezing, but by 5 o'clock I was so tired I could barely drive home - and I was sound asleep by 9. I knit only one 51 stitch purl row on the second sleeve of the Mountains of Hearts sweater.

Tonight my beginner students will finish their hats. This is the class I always enjoy the most. This is the class when they come to believe they really can knit. They have been stitching away on the colorwork part - and so far every student (but one) I've had has been completely swept away by the beauty of stranded colorwork. They had always thought it was really difficult to do and now they find that they can do it. The neat thing about this is that instead of thinking the skill is not so impressive after all, they think they are the impressive ones. And they are. Watching someone come to see herself as special is one of the most rewarding experiences a teacher can have.

We'll begin the decrease for the hat top - probably finish it up tonight and I will have them cast on something once again just to be sure they remember how to cast on. There is one last class, at which I will pretty much let them ask for what they want. I hope they will also start coming to the Tuesday Night Knitters.

In other knitting/teaching thoughts, I am considering some one day workshops on certain techniques. Pattern reading, for example, or seaming. These would be good classes to have under my belt and I think there are lots of knitters out there with a real Fear Of Seaming. (I used to be one myself) But beyond my own teaching opportunities, I am considering a monthly series at the library where fine artisans can come and give a talk-cum-demonstration of their craft. I have already scheduled a lecture/demo of Japanese Embroidery for April - which I know will fill up because I've had so many people ask for it after we displayed some beautiful work by one of our volunteers.

There are other interesting crafts/arts that might be fun to have displayed. We have a truly marvelous polymer clay artist living here in the county and some other really fine handiwork folk. This idea is still in the 'thinking' stage but I believe I shall put some of these thoughts on paper today.

But before I do another thing, I must go pull the tax crap together. Ugh. I must plan a suitable reward for doing that task. Ta. posted by Bess | 6:25 AM
---