1 Comments:
I became dreadfully ill last February, and was nearly hospitalized in the process. Once I started feeling better but was still kept home from work by the doctor, I realized that being a kept woman wasn't all that bad a prospect. The bug has been in me ever since... ah, days off... time to set on my own... mmm....

Subscribe to Post Comments [Atom]



Thursday, September 30, 2004 This vacation stuff is simply grand! I am in love with staying home - walking from room to room, on a Wednesday, after lunch, just touching something or looking at something else. Whew. Talk about heaven!

After leisurely lolling about in the a.m. yesterday I took a phone call from one of the library volunteers, with news that a very fine local artist, Marion Elizabeth Simonson, had died and her heirs wanted to leave one of her magnificent paintings to the library. Trouble was, they were leaving town on Thursday and could I arrange for someone to pick up the portrait?

Could I, indeed. Perhaps it is not even correct to say she was a local artist, since she had a substantial career in New York as a professional portrait painter - specializing in official portraits of judges. She did all the restoration of the portraits in our own courthouse when it suffered a fire in the 1960's. BD and I hustled on down to town and met with the cousin. The more we chatted, the more paintings she pulled out of corners, closets and storage rooms. We ended up taking her entire art book collection, as well as two more portraits, including one of Ms. Simonson, back to the library. So - even though it is vacation, one must take care of business, right?

I didn't write any more on the travel log - baaaaad Bess. I shall attempt to do so today - though I make no promises. What I did do was to knit away on both the Anny Blatt sweater and the BRCA sweater's swatch hat. I am officially naming that sweater today. I've been thinking of calling it Bricca ever since I typed out the acronym - it sounds Celtic enough even if it's really a town in Roman Gaul, the present day town of Breches. After typing yesterday's post I switched to a #8 needle and knit about half another pattern depth. This is coming in much closer to gauge - though I still think I should block the whole before making a final decision. I like the look of the knitting better - I think.

I have been knitting my purls using the Combination purl - wrapping the yarn clockwise around the right hand needle. This tends to tighten up the purls substantially. It makes my knitting much firmer. I was creating a fabric of reverse stocking stitch - maybe 50% of this sweater - that was very smooth and flat; not tight, but definitely firm. The cable parts, all the st. st. parts, were rather bumpy and uneven, but not more than a good blocking would take care of. Remember, I nearly always wet block. Not only do I love the process, but also, I don't care for steam blocking. It produces too uneven a result for the effort. Only if the fiber can't take the water do I resort to other sorts of blocking - or bypass that step altogether.

With the #8 needle, the cable parts are much softer, smoother and more even. They are also a good deal longer, so my row gauge is much closer to the pattern's. What I'm not sure of is the reverse st.st. part - it's pretty enough, slightly more textured, but it seems a trifle loose. In fact, this part of the hat is altogether much softer looking. I like it well enough - but I'm not sure the loose RSS parts will support all the cables, once this thing is a complete sweater, hanging off my shoulders.

Ah well. No use conjecturing. Let me finish up the last 2 rounds of yarn left from this single ball, block it out and see exactly what I get. Perhaps I shall take it with me to the Montpelier Fall Fiber Festival this Saturday, where I can get feedback from all the Knitters Review folk who'll be there.

LD&GF came for dinner last night and we regaled them with Travel Talk, complete with photos - and this prompts me to get back to work on my own posting about Niagara Falls - so, off I go to continue my reminiscences.



posted by Bess | 7:44 AM
---
1 Comments:
I found your "combination purl" interesting. I am having trouble with my gauge...I am now trying to knit with a larger needle on the purl rows to get the gauge. My stitches on the needle are ok gauge-wise but the rows that make up the length are 1/2" too short. Any suggestions for me? I would love to start a sweater instead of another dishcloth or scarf.

Subscribe to Post Comments [Atom]



Wednesday, September 29, 2004 Well. I am writing the travel log but it's so darn wordy I'm a bit reluctant to post it here. Besides, I've been typing for an hour and I'm only just now getting out of Pennsylvania. Best do a little editing before I post.

We took the rental car back yesterday - BD driving, with me following in our own car, and just outside the airport my car got a flat. What a stupid thing, but goodness, how glad I am we had decided to take the trip in someone else's vehicle. Best of all, strong and manly BD was there to take care of the nasty details for me. I know I could change a flat - I actually did so once - tragically destroying my hopes of living my entire life without ever having to change a tire. Mind now, it's not that it's so difficult - it's that I had hoped to fulfill the vows of the Little Sisters of the Dainty Hands. I will re-thread your overlock sewing machine and change the blades on it too, but don't ask me to fiddle about with things that have axle grease on them. Alas, it was not to be, but I still try to live by their maxim: "That is why God made Men."

Anyway, back home, with photos developed and groceries bought, I could settle down to knit away on the BRCA swatch hat and boy am I glad I did! The gauge is nowhere near what the pattern calls for, even though I'm using a technically accurate, medium weight #3 worsted yarn and size 7 needles. The row gauge is worse than the stitch gauge. The pattern calls for 22 stitches over pattern C to be 4 inches. Only if I flatten out the swatch can I almost get that. But flattening out swatches is a no-no. Of course, cable patterns are always going to pull in some and stretch out somewhat when worn. Maybe.

So. For the first time ever, I'm going to knit and block my swatch. I'll finish up the pattern repeats and knit a little more, just to give me measuring room, and then dunk the whole thing in the sink. Once blocked I'll make my final decisions about this sweater, but I think the plan will involve using the cables in the pattern and adding filler stitches and pattern repeats, where needed, to give me a sweater that fits. I don't mind doing the math - I'd do it anyway, to put in bust darts and to be sure I was knitting something that fit everywhere else. The hardest thing about this whole project has been choosing the cables, there are so many gorgeous ones. I like all the ones in this particular pattern. I could, of course, go through Barbara Walker and pick out different cables, but then I'd have to do another swatch hat, and really, I'd rather knit a sweater than another hat.

Once the swatch hat is blocked I'll get the ruler and calculator and figure out just exactly how many stitches to cast on. While it's drying I may just sit down and finish the angora/mohair beauty. It's very close to being finished, guaranteeing I have to battle the Finishitis Fiend. I just think that this time I'll win.
posted by Bess | 7:50 AM
---
1 Comments:
Hooray for BRCA!!! It's gonna be a beaut!

Subscribe to Post Comments [Atom]



Tuesday, September 28, 2004 Whooee! Home again home again jiggidy jog.

We got in late last night, thanks to the infinite skill and patience of BD on the highway. He's the calmest, most careful driver. I got to just wallow in ease and comfort and gape out the window or knit when I got tired of looking.

I promise a full report about the trip, with photos, sometime this week. I'm still officially on vacation. In fact, I'm gong back to bed in just a moment - with a second cup of perfect coffee.

The big laughable surprise is that when I went to town last Wed. to pick up my paycheck it had already been delivered to the library, inspite of my request that it be held at the CA office. Now - I hate to go back to work, even to pick up a paycheck, on the first day of a vacation, so I was pretty grumpy about it - but guess what was waiting for me at the library? You guessed it - the Brick Red Cashmerino Aran yarn!!

Ohhhhh how I love to work with this stuff - but I didn't do much more than knit a wee bit on a swatch hat, because I'm following someone else's pattern and I couldn't enjoy the drive and study pattern instructions at the same time. We were already packed and I had the Anny Blatt mohair and angora sweater, mindless knitting on 10.5 needles. It's almost finished too. I'll actually finish that up before I really dig into the BRCA sweater.

Okay - back to bed for this girl.

Good to go, better to be back. posted by Bess | 7:25 AM
---
3 Comments:
Happy Birthday, Bess! It sounds like you had great fun.

Many happy returns,
Alissa

Glad you had a great birthday.

Happy Birthday from another knitting, Spanish-speaking librarian! )I am your KnittersReview ring back-door neighbor, spending a gorgeous Saturday browsing blogs).

Subscribe to Post Comments [Atom]



Wednesday, September 22, 2004 Nearly all of my birthdays are happy. One or two were not, but the bulk of them are in the "what a fantastic day" category. None of them, though, have ever come even close to being as blissful as yesterday. It was a perfect day of perfect perfections. It was all love and joy and smiles and happiness pumped with an outpouring of energy. I hardly know which way to look for the source of added extreme joy. Was it the knitting buddies who lavished me with praise and tender wishes? Was it the crisp weather that blew off all of summer's muggy damp? Was it the knowledge that VacationDays were imminent? Was it the GF who added that touch of pink to my world? Who knows? But stirring them into the mix of Darling BD and Precious LD only increased the happiness of an already happy day.

Would that everyone could have birthdays like this.

And now I head off to SweaterLand - without the BRCA yarn. I still have one chance left to peek into the mail, for we drive past the post office on our way north. I am not counting on anything, though and will bid farewell now. Off to paw through the stash to see what else I can take with me.

Be back next week.
posted by Bess | 7:06 AM
---
1 Comments:
Since I'm not there today, I owe you a birthday song! I'll sing for real, or sing a mock-birthday song like my brother gets every year - your choice!!!

Hope the mailman is busy packing your box full of cashmerino right now!

Subscribe to Post Comments [Atom]



Tuesday, September 21, 2004 This is it! The Guaranteed Official Happy Birthday Day!

And what a happy birthday it is. I suppose that is why my eyes popped open - wide awake - at 4 a.m. and my brain read the clock to say 5 a.m., which, like on Christmas morning, is not too early to get up and take a peek. It was only after I was sipping coffee that I noticed the wee clock on the monitor said it was 4:15. Eeek.

But this just gives me an extra hour to be aware of how beautiful life is.

The celebrations began yesterday with a loving gift from S - a beautiful Swarovski Crystal dragon - because I'm not just a virgo, I'm a dragon too. Then GF breezed in with the OfficialBirthdayTiara which one wears the day before, day of, and day after the birthday so that all your subjects can pay homage. I wore it too, till it gave me a headache because she has a daintier head than I. I will keep it on my desk today and don it just before we go out to dinner tonight.

At noon Jen showed up with her gorgeous vest, all silky fluff of angora with manx longhtan mixed in and edged with my favorite color chocolate brown Shetland. Her arrival was perfectly timed for me to introduce her to the quilting group that meets every other Monday at the library. One of the women is B - a fellow Barbara's Babes - who already knows Jen, but everyone drooled over the vest.

Bwa ha haaaaaa It wasn't long before I was forcing the innocent tenderhearted Jen to slash away at her knitting. Evil wicked Bess. But those shoulders were winging out way too much and that vest is too gorgeous to be deformed by clown shoulders. She used a crocheted steek technique to secure the fabric and was able to take off a good inch each side. And I am proud that I only once took the garment and tools out of her hands - I hope I remembered to ask first - and I quickly gave them right back to her. I can't stand teachers who take your work away from you. The good news is that the vest looks the way it ought now and she can proudly show it off.

Today starts out cram packed. We have our Friends board meeting at 9 and our first Spanish for Librarians class at 10 or a little thereafter. I'm just ever so slightly nervous about all of this, because of course, we're charting new ground. We haven't had much call for bi-lingual skills and I don't really intend to make the library a bi-lingual library. In part we haven't the resources, and in part that's not our mission. I believe it's more important for the Spanish speakers to learn English. But learning English using library materials does make sense to me and besides, for the staff it's pretty much impossible to just shake our heads and say "sorry no spika de Spanish". We've been cursed with the "Must help patron. Must know answer" disease that all librarians end up with sooner or later. Well, all good ones, anyway.

So, just as I would learn some new phrases if I were going to tour a foreign country, I'm learning a few phrases to journey into the world of the Spanish speaking community. And I'm dragging my staff along with me. But I am nervous about it too. As well as excited.

After the Spanish lesson I'll have about 4 or 5 hours to put things in order so that coming back to work won't be too daunting. I know it will be a little overwhelming - I just don't want to be crushed by the horror of it. Clean the desk. Check off items on the ToHaveDone list. That's the agenda for the afternoon. Because then ... I'm outta there.

Good news about BD, who has only a cold, not a COLD. The trip is on and we head for Niagara Falls tomorrow. Yep. We plan to do the utter tourist thing. I want to be amazed and thrilled by something One Heck Of A Lot Bigger Than Me! I want to be splashed on the Maid of the Mist. I want to creep through the rock tunnels behind the falls. I want to get sick on the cable car (I think) that crosses the Niagara Gorge, and I want to see ships in the Welland Canal. I want to walk among 20,000 butterflies. I am prepared to be delighted.

What I shan't be doing is knitting my Brick Red Cashmerino Aran Sweater in the car. At least, I shan't if none of the fleet of delivery guys visits me with packages today. Yesterday the UPS guy had 6 boxes but they were all books - and a little motor for BD. No slip in the mailbox saying they had a package too big for the box, waiting for me at the post office. No nothing.

So I shall just take along something else. I'll take the Anny Blatt sweater, probably finish it on the drive. I can certainly take something else out of the StashFromHeck. (It's not truly cursed enough to be from Hell, just enough to be burdensome.) And surely the BRCA yarn will be here when I get back.

So - busy days ahead. I expect to be back tomorrow for a last post - surely you need to know if the BRCA yarn made it in time for the birthday cake. And then there shall be silence.

Ta.

posted by Bess | 6:36 AM
---
2 Comments:
oh, i like it a lot. gorgeous color combinations.

Thankee thankee. I like the colors too.

Subscribe to Post Comments [Atom]



Monday, September 20, 2004 Here's a photo (at last!) of the blue merino hat with the cormo brim. This is the disaster hat that was supposed to have a boucle brim on it and get entered in the MS&W show. Instead it gets to go to Montpelier.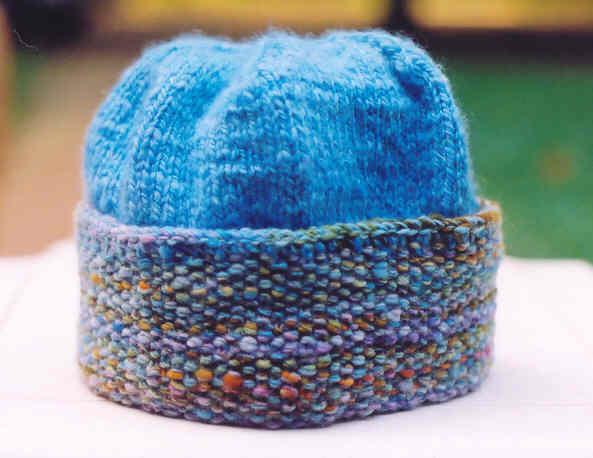 posted by Bess | 11:24 AM
---
1 Comments:
Aren't "free sweaters" fun! Like my stash reduction. I'm selling some yarn I bought ages ago, and I look at the money and think "yay I made $10!" not "I probably spent $20 on the yarn to begin with!" And actually using it is even better.

Subscribe to Post Comments [Atom]

Sometimes, we function more efficiently in times of hardship than in times of plenty. When we are forced, by circumstance, to struggle, we have no alternative but to make an effort. That effort may not pay off as swiftly as we want, but it has its impact, and, over time, it gets results. When things seem to be going our way, we get too comfortable. Your love life, soon, will turn sweet. Your financial horizon will brighten. Be glad of this. You deserve it. But find, please, something to object to - lest you lose the momentum you have built up!

Thus spake Jonathan Cainer

Whoa - now ain't that a promise for the day. And he doesn't even mention the perfect weather we're going to have all week. Nor the imminent visit of Jen for lunch, and a quick fix on a piece of knitting, allowable [ma]lingering during a work day in payment for the hours I had to spend in town on Saturday, working with the computer network wizard. So we have a better functioning network too! And of course, tomorrow is the BigDayBirthday! And then vacation!!!!!

Okay - there is one fly in the ointment. Poor BD has a cold and it may be bad enough we'll have to not just change our plans but cancel some of them. I will try hard to object so that I don't lose any momentum, but honestly, 2 weeks at home could never really be objectionable.

Speaking of momentum - stash reduction knitting is going great guns. I cast on with the Anny Blatt yarn described a few days ago. I never did find my size 15 needles and I know there is a cluster of other needles gone missing, but I figured I could just knit loosely with a 10.5 and see what I got. Obviously I won't have enough to knit the cowl necked sweater I bought this yarn to make - at least, I doubt it - I'm not even sure I'll be able to knit a turtle neck sweater unless I go with 3/4 length sleeves - and somehow 3/4 length sleeves and a turtle neck seem to cancel each other out.

The fabric I'm producing is nice. It has a good hand and graceful drape. I'm knitting it in the round with a pretty seed stitch at hem and cuffs. I've finished the body to the underarms (st. st. at 3 stitches to the inch sure move along fast) and am working on the first sleeve. When it's 14 inches long I'll make my neck treatment decision based on how much yarn is left. If I have to go with 3/4 sleeves (which means ripping back) I'm inclined to go with raglan shaping and a ballet neckline. But this is angora blend - it'll be a warm sweater. Ballet necklines leave an awful lot of skin exposed and don't layer well.

Okay - no ballet neckline.

I could do a V-neck - with set in sleeve shaping - and edge the V with matching seed stitch. This could be done by knitting back and forth once I actually get to the opening. It would be a fascinating shaping exercise - with seed stitch boarders, decreases immediately after that, then set-in sleeve shoulder cap decreases a la Flidas - and then as I worked the short row shoulder shaping I'd be also figuring out the seed stitch boarder.

Of course, I could also just do a V-neck shape and add the seed stitch boarder afterwards, but that lacks the intricate math that makes knitting such a challenge to do and such fun to show off.

What I hope I'll be able to do is to make a little stand-up collar of seed stitch just after the short row shoulders. That's my all time favorite shape for a winter pullover not intended to be layered over other clothes. And my dears, who would ever forgo angora next to the skin?!? Right, not this gal. Not in a bazillion years.

But the happiest part of all this is that it's StashReduction. It's clean out the clutter. It's a Free Sweater because I spent this money so long ago it no longer counts. It's guilt removal. It's virtuous me inducing; a gift to myself. Woo woo. Happy birthday Bess!

Man I gotta go find something to object to.
posted by Bess | 7:06 AM
---
0 Comments:
Subscribe to Post Comments [Atom]



Sunday, September 19, 2004 My vacation is soooo close now. It begins at 5 o'clock on Tuesday - the perfect birthday gift. It lasts till about 9:30 a.m. on October 5th. It fills the days between with a combination of shivery pleasures guaranteed to meet all one's vacation needs. First will be the energizing days of travel. I adore tooling along in a car with BD. It's a reminder of how I fell in love, in fact, since our first date was an 18 hour car trip. We are heading north - nawth, dahlin'. Someplace where sweaters feel good! Sweaters to wear - sweaters to knit.

After that there will be days at home savoring the joys of place and ownership. To just walk from room to room on a weekday, with neither a sprained ankle nor a fever as the price of that guilty pleasure, will be utter blissful and relaxing joy. To be home, with all your toys, with time to ponder or think or plan or to do nothing at all, is one of the sensations of true wealth. I am ready to be rich. The second weekend will be 2 days at the Fall Fiber Festival in Montpelier, helping Jen sell her beautiful yarns and fibers.

I wrote last fall about what fun this small festival is - with all the requisite pleasures of sheep dog trials, funnel cakes, and fibers, but without the buzz inducing, mind numbing excess of the mega-festivals. It's completely encompassable. It's completely viewable, do-able, and see-able. If I had small children, this is the festival I'd take them to. Not much chance they'd be overwhelmed, or worse, lost, so you can relax your vigilance down to normal mommy-watch, and there are plenty of green grassy fields for them to run around in.

I have only one thing to enter this year - oh. Well. No. I have 2. Okay, hmm. Best get them packed up. One of the truly friendly things about this festival's arts competition is that you can mail in your entries and if you include postage, they'll mail them back. I expect to be there at closing time on Sunday so I'll just pick my entries up. I'm sending the blue hat and a skein of drop spindled sock weight yarn in blue faced leicester.

I have arranged to take the following Monday off too. I like to have a day to get back to normal after a fiber festival. I did this after Maryland and it made an enormous difference. Gives one time to look at one's purchases. Here's hoping I shan't have any. My stash runneth over and I am in a knit it up and spin it up mood.

So. Time off. Time spent in pleasure. Time with BD. Time with girlfriends. Time with my toys. Time. The coin of the spiritual realm I long to enter.
posted by Bess | 7:27 AM
---
0 Comments:
Subscribe to Post Comments [Atom]



Saturday, September 18, 2004 Woops! Who knew I'd be this busy on a Saturday. We could get our computer network guru down here at the library (yeah, I'm at work - but I'll be leaving soon) to do some major fix-its. No time earlier to write a post and now that I'm in town I can do OtherThings.

Looks like Virginia's share of the big rains of Ivan will be only big, not GIGANTICENORMOUSMONUMENTAL. Thank Goodness.

Alas -no brick red Casmerino Aran yarn showed up yesterday and the postoffice says there's no box with my name on it today. Good thing I started the Anny Blatt sweater. 2 inches of garter stitch border are done.

But in other Good News - I did get the PerfectHaircut. Perfect, you might remember, is when it looks good right out of the salon, not 2 days later after I've washed it. Yep Yep Yep - she took it up short enough in the back this time and left the sides just the right length. I can shake my head, dahling.

Back later with pithy comments if I can. Otherwise, till tomorrow.
posted by Bess | 9:20 AM
---
1 Comments:
Did you get the new cookbook? 125 recipes, all on the Core program, but have point values too, so it's good for either one... I just flipped through so far and it looks GOOOOOOOD! The Turn Around Program Cookbook...

Subscribe to Post Comments [Atom]



Friday, September 17, 2004 I really want to post this witty clever review of New York's Fall Fashion Week because there are so many good photos out there. I just don't have the time to wait for old equipment to move things across dial-up internet lines. I'll try to remember to come back to this over the weekend.

Today I get another shot at ThePerfectHaircut - at 8 o'clock. That puts me in town an hour and a half before I'm due at work, so I can get in a complete workout at the gym. I'm scrambling this month to get in at least 8 visits because if I go 8 times a month, the county pays half my membership fee. Funny how much I resent it when my paycheck shows the penalty - it's not all that much, but my goodness it irks the dickens out of me. Yes, I could go use the phone in the lobby and it could still "count" as a visit, but somehow I can't cheat about this. If I don't at least walk around the track once I can't really call it a visit. (Believe me, I tried, and felt like huge neon arrows were blinking above my head saying 'Liar, Liar,Liar'.) If you know you're going to be gone most of the month you can just go inactive, but then you can't use the gym on the weeks you are home during that month.

So - how hard is it to get 8 visits in in 21 days? Harder than you'd think, some months, but I will make my quota. I have to. It's September. Only good things are allowed to happen in September.

No lovely man in a delivery truck brought brick red yarn to me yesterday. Let us hope one does so today. In the mean time I pulled out the Anny Blatt stuff, bought several years ago, and swatched away. It's two yarns, Chimere, a wool/mohair/polyamide blend boucle, this one orange with a black binder yarn, and Angora Super, which is 80%angora/30% wool in a color called Pourpre (color #454) - it's pink and orange and cream. I'm knitting the two together on 10.5's (because that's the biggest circular needle I can find in my stash)and will make a very plain scrunchy looking sweater out of it. There's no point in doing much else with this much fuzzy furry texture. Maybe a big twist just below a v-neck, but maybe a turtleneck. Depends on how much yarn I have. I bought enough to make a cowl necked sweater for the pre Weight Watchers me so there ought to be... but one never knows, does one? Thank goodness I look best in short sweaters, the ones only 22" long.

And tonight we take LD&GF out to dinner for her birthday. I have only 3 more dinners to cook before vacation! Ahh yes - and that reminds me to call about a dinner reservation for myself at Good Eats in Kinsale - for my birthday. It feels so good to be having two birthday dinners in September, once again. Seems like all the best of those H men are obliged to find happiness with Virgos. How fortunate for them.

Ta.

posted by Bess | 6:51 AM
---
2 Comments:
Oh, drat, I already have all those outfits!

I'm wearing that not-closed-bustier right now!

Really, is it me, or is it getting harder and harder to tell the difference between cirque du soleil and a runway show?

I would love to see a picture of your Poupre sweater. I have only 2 ball of that yarn ): I need more for a project but it is so expensive. I just love that color though. ~Page

Subscribe to Post Comments [Atom]



Thursday, September 16, 2004 In consequence of still not having a schedule that completely satisfies me, but because I want to be sure to get this post in, and this news out, I am writing the blog entry before reading any my favorite blogs. Of course our snail-like dial up internet service didn't make it any easier for me, and hotmail ate an important email I copied to myself and I wasted 15 minutes trying to find it by backing up.

Gone

Rats

So - would She Who Knows What I'm Talking About please send it back to me. I want to be sure of what I've promised to do.

so now for the big news


TA DA!


The Purple Mohair Lace Sweater is finished.

Yep. Done. Finis. Complete. And, for all that I stretched out what should have been a 1 month project into 6, it was still fun at the end. In fact, it was one of the most fun sweaters I've ever finished. And it will be available in kit form at Spirit Trail Fiberworks soon!

So now the $64,000 question - will the brick red yarn for my aran sweater be here before vacation? Jen got her RamWools order in 10 days. For me ten days would be tomorrow. Ooooo I hope.

Yikes! got to get. Interesting, well informed, clever, witty writing is sure to be in the future, but in the mean time, check out the spring clothes here. Very fluffy, no? But for the vampirilla froufrou in you, you might try these: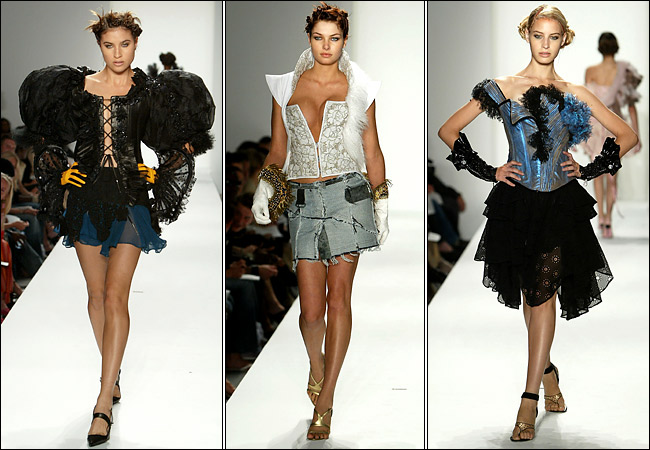 Especially those poison yellow gloves with the black lace gauntletts. posted by Bess | 7:37 AM
---
0 Comments:
Subscribe to Post Comments [Atom]



Wednesday, September 15, 2004 Dearest dears

Rest assured I am fine - but suddenly life has exploded into a riot of opportunities and possibilities and my whole routine is up for grabs. When I have woven all the threads of this new tapestry of daily living neatly in I'll be back to my usually gabby posts about the important things in life, like capri pants and summer mold eradication.

Here's what my guru astrologer has to say about today - and really about the coming months!

Welcome to the first day of the rest of your life. That's not the first time you've heard this phrase, nor will it be the last. It's always relevant, and often appropriate. But it is, nonetheless, exceptionally apposite now. A most amazing New Moon has just aligned with Mars in your sign. Suddenly, you have been granted the ability to put plans into practice and turn dreams into realities. You've got energy and opportunity, where before you had only hope and aspirations. You feel deeply determined to clear up some awkward issue which has upset you in the past. You'll manage it, soon.

I would say "yep".

Several people have written about the aran knit-along which has a start date (that is utterly negotiable) of September 20. Of course, I have no guarantee that my yarn will be in by then and we leave on vacation the 23rd. I can't imagine fate would be so contrary but one can't count on anything in a year where there are three hurricanes in 1 month. In my case, If I have my yarn I'll start on it and if I don't I'll have to wait till Oct. 1. And the decision has been made. I'll knit the cover sweater on the XRX book:




I had had reservations because thought there was too much purl on the sweater. Not that I mind purling, but I when I looked at the photo I kept thinking it wasn't balanced enough with the cables. Some further study made me realize that it's the yarn that gives the purl such an overpowering appearance. It's a non-resilient fiber, I forget now, silk or cotton. I want something more cushy and snuggly looking but not the full monty of Ragnar or Alice Starmore's St. Brigid Not in red, at least. Using a wool yarn ought to make those big sections of reverse st. st. ought to make it look more plush.

Of course, only swatching will tell and I can't do that till I have the yarn. So - let's all chant "Come, yarn, Come. Come, yarn, Come. Bess has a birthday and wants some knitting fun."

Okay, sorry for the doggerel. I'm sure silent juju will work just fine.

Hokay - lunch hour is over. Ta. posted by Bess | 1:24 PM
---
1 Comments:
Missing you! Many hugs to you AND BD

Subscribe to Post Comments [Atom]



Monday, September 13, 2004 Feeling a little off today so, no post. Be back tomorrow. posted by Bess | 6:35 AM
---
0 Comments:
Subscribe to Post Comments [Atom]



Sunday, September 12, 2004 Woops! Missed a day. BD woke up the same time I did and clamored so much for a buddy I didn't get to finish my on-line morning routine. Somehow I never got back to the machine to make a post. Now I sit here wondering if there was anything noteworthy about Friday and if it mattered that I missed a day.

The best thing about Friday was that it was Friday. It was also another extremely productive day at work. I haven't a clue what makes one day productive and another slothful, but other than being hungry all day, I didn't feel any effects of my sleepless night till yesterday - and since yesterday was a Saturday, I just took a nap. After I cleaned the house. After we went for a swim! Yes. A final swim of the year - bracingly cold, shockingly cold, a 10 minute sort of dip. We don't usually swim here in September. Maybe I'm not home on weekends, or maybe it's raining, or maybe it's just too cool. I can't actually remember. There have been early days in the month when I've rolled off the end of the pier, and last year, after Isabel (September 18) when that was our only bath water source, I took soap and washcloth out to the swimming beach. But recreational swimming is really a May through August sort of activity. So bidding summer good-bye with a September Swim is always a special thing, treasured for its rarity, thoroughly enjoyed yesterday.

On the fiber front there are several exciting reports. First is this happy news:


Inspirations Yarn Grand Opening


Yes, friends, another knitting buddy has realized her dream and opened an on-line shop for her own handpainted yarns and patterns. MT has been longing to make a living with fiber for years and at last things have come together for her. A lovely site, beautiful colors, fair prices. Congratulations M!


* * * *

The other news is that I have only 4 more pattern repeats to go on the second sleeve and the Mohair Lace Sweater will be ready to sew together. Since there are only shoulder seams, sleeve seams and sleeve inserts, it should be done by early afternoon. At last - a promise fulfilled - raggedly so, full of excuses and prevarications and apologies - but truly fulfilled. Someone is extraordinarily patient and kind. I'm fortunate in my friends.

Of course, if one is nearly finished 1 project the mind begins gazing out across the horizon of FutureProjects and I have several in my sights. There's the BrickRedCashmerinoAranAranBirthdayYarn, ordered from Ram Wools and possibly arriving next week. There is also the K1C2 kid mohair and worsted weight, both in Caramel Crunch colorway. I bought that 2 birthdays ago with a specific pattern in mind: a baseball jacket, body&sleeves in mohair, trim in worsted wt. I just haven't knit it because there were other things I wanted to knit first. But now I'm thinking it might be a quick zip (you know Bess and her zippy knitting, remember?) with the body knit back and forth in one piece.

Another quick clear-the-stash project is some Anny Blatt merino/angora blend and its complimentary orange mohair boucle. That would also knit fast because I bought a sweater's worth, based on the pattern book. The two yarns are knit together on size 15 needles, and I recall buying the needles at the same time; Clover Circulars. They're around here somewhere.

I do have 2 obligatory knitterly projects to work on, but they are small and both are more technique building than production demanding (i.e. very small). I ought to have them out of the way by, hmm, mid-October. That is a sweet feeling.

Like the renewed energy and focus I've been feeling at work, I'm also renewed with knitting inspirations. I'd been in such a slump for so long. Come to think about it - I've been in a slump since I realized I'd lost Flidas and then had that crushing blue boucle hat disaster. To loose my most triumphantly successful knitting project and then utterly waste my most challenging spinning project within 6 weeks must have just blocked up all my ambition. It doesn't mean I quit knitting or spinning, but there was a lackluster feel to all my efforts. I still got a bit of process comfort out of my fiber play, but no artistic thrill.

Well, it may just be the turning of the seasons. It may be that Mercury is at last going forward in its own House-of-Virgo. It may be that it's just time to get over the grieving process. (Okay, a bit of hyperbole here, but I really am still upset about loosing Flidas.) Whatever the reason, I am just glad to feel the blood coursing, the brain clicking, the ideas blooming again.

The lost and lamented Flidas: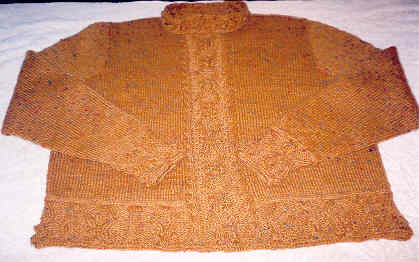 posted by Bess | 8:03 AM
---
0 Comments:
Subscribe to Post Comments [Atom]



Friday, September 10, 2004 It was a sleepless night - for no good reason other than, perhaps chronology, and I've been awake since 2:30. Often when I wake up and can't get back to sleep I'm pretty energized, bustling through the day and crashing sometime about 7:30. I'm already dragging now, probably should have tried to get back to sleep an hour ago. Well. At least it's Friday.

I am reading Big Stone Gap , by Adriana Trigiani. This is the title I'll be guiding a book club through on Monday. It's a sweet story - sort of a beefed up Harlequin Romance, with your standard frigid brainy beauty who walls herself off from the world because her papa was a cold'un (or who was dumped by Mr. Scoundrel) and almost walks away from Manly Mr. Right, who's been waiting in the wings, or on the porch, or by the side, since they were both in grammar school. That's the Harlequin Romance part - but it's got more meat to it, with it's cast of thousands of both mountain folk and flamboyant ferign types, some all the way from the Eye-Tal-Yun peninsula. Yew know, thet place thut's shaped lahk a boot?

I'm not all that fond of vernacular, most of the time. This dose isn't too heavy a load to bear, but it's mighty strong. And if I didn't live in a small town, if I were a more sophisticated reader, I'd complain that the stereotypes were trite. Since I do, though, I know that stereotypes aren't caricatures of the real thing - they are the real thing. That's what makes them both so easy to create and tiresome to witness, unless it's your Uncle Rafe, who really does chaw bacca at the hog auction.

There's plenty of glamour when Elizabeth Taylor comes to town - back when she was playing at being a Washington D.C. Hostess. That had to be her most unglamorous period; her muumuu era. I remember when she came to Essex, too. I went to the rally up at Wheatland, one of the lovely ante-bellum home upriver from us. BH assures me that she came here just after she visited Big Stone Gap - or else, she went there just after she'd been here. Well - wanna know the truth? Big screen glamour does better on the pages of People magazine than it does on the front lawn of Wheatland.

I missed this book when it came out a couple years ago and I was glad to get around to reading it. I like to have a sampling of Virginia Authors in my mental database. There are a slew of 'em living in the south west corner; Sharyn McCrumb, Jill McCorkle, Lee Smith, a little cluster around Charlottesville; Baldacci, Rita M. Brown and Grisham, even my favorite of all, up in Fredericksburg; Florence King. Some are born here's, some are come here's, some are gone away's. Now, I'm a born here, though, my family is not - and I think it's God's Country, but I wonder what the big draw is for those not born'n bred in the briar patch. Perhaps it is the opportunity to live out the Tara fantasy - Gone with the wind - without that oppressive heat of the real plantation south. Perhaps it's got panache because it's had so little industry. Lots of dirt poor, land poor, coal mine poor, but, not the sort of dinginess I've seen in more industrial places. Our rust belt gets covered over by kudzu and creeper pretty quick. In spite of the D.C. suburbs, there's still a lot of rolling green left in VA.

Anyway, the book - my companion through most of this sleepless night - was a bit of sugar candy and I can certainly see where it's popularity came from. I may have gotten awfully tired of a 35 year old woman with that many doubts and that clueless to her wants, desires, and deserts, but not so tired I tossed the book aside. And for goodness sake it was a full rocket height above the gloom and misery of the usual selection this particular book club chooses. La! I have been so depressed with so much of what they have picked over the years. At least this one has a happy ending. As the Queen O Fairytales happy ever after sugar blood candy coated syrup soaked souls, it was a nice way to make the dark hours pass.

Best of all - I have the weekend free now, to knit!
posted by Bess | 6:04 AM
---
0 Comments:
Subscribe to Post Comments [Atom]



Thursday, September 09, 2004 If we can hold on for 24 hours we are promised, by weather dot com, a week of God's weather. Low humidity, cool nights, sunshiny days and


NO RAIN


I got home last night to another sopping wet refrigerator. BD is OOT till late tonight and he had forgotten to turn on the fan - or thought it "wasted" electricity - this when, if you don't turn on the fan, the fridge condenses so much water the enamel rusts. We argue over these kinds of things all the time because we've come to terms on pretty much all the important stuff. What's left is the sort of sibling squabbling one expects to hear from the back seat of a car.

La - I am ever amazed at the turn my thinking takes when I just sit down and start typing.

When I got home though, the tide was still mid-way to up so I didn't get any photos of the submerged pier. I'll check again this a.m. and if it's high I will see if I can nerve myself for a dip in the water. I don't like to swim off the pier unless it's really a fall high tide, because the bottom of Jacob's Gut is soft - as in knee deep goosh - mud. Only children will play in it, and not many of them. Ick. I shudder just thinking of it. Ahh - but with a really high tide you can just roll off the end of the pier - or roll back on. You never have to put your feet in that chocolate pudding stuff.

And yes, I'd love a mud bath sea kelp wrap from the Homestead Spa for my birthday. That is different. Everybody knows.

hmmm

For a knitting blog I certainly do write a lot about the weather. Of course, the east coast has had a lot of weather the past few weeks, and when one lives as au naturelle as we do, weather is always in the equation. I rather like it that way too - I want to be in the world. I just wish, sometimes, the world were a little more temperate.

So, for some knitting content I will report that the second sleeve of the PML sweater is moving on up. In fact, I'm off to knit on it more as soon as I finish with this post. I am also looking hard at aran designs. Though I like several sweaters in the XRX book, I don't want to do any of them in brick red. There is a Kristen Nicholas sweater in her Knitting the New Classics that I really like. It's extremely close to, but not quite what I'm wanting to do. I'm still pondering the shape. Settled on hip length, but mind now, I'm short waisted so even then it shan't be too long. Definitely NOT a drop shoulder - mmm slightly doubtful about saddle shoulders. I'm top heavy and set in sleeves really look best on me. Well, they look best on 90% of all people.

This is one of the problems I have with knitting books. The photos seldom present an honest image. You have to look hard at the actual structure of the garment and see if the design person (can't remember the job title) has pulled the back of the sweater tight so that that droopy underarm bagginess is hidden. Do you see the shoulder seam wrapped around the slender shapely (as in you can see her waist) model's upper arm? I promise you, there's a row of clothes pins marching down her back. That underarm fullness seems to be the bugaboo of most sweater designs. That's why fashion writers will type "The slimming raglan effect".

Well. There's slimming and then there's merely eliminating underarm bagginess. When a shoulder heavy woman, with a convex clavicle, wears a raglan - I can tell you, the loss of the UAB is not compensation enough for the way those diagonal lines seem to thrust one's shoulder line into linebacker's proportions.

Okay, no raglans, no dropped sleeves, maybe a saddle, maybe not. Hip length - 24" at most. A little moss or seed stitch. I keep meaning to wax eloquent about the joys of combination knitting (thank you Annie for the gentle insistence). What a difference this has made on my willingness to use certain stitches - ones I used to avoid - because now the sensation of switching from knit to purl is almost imperceptible. Ribbing suddenly becomes fun! I'm actually thinking of all over ribbing on some future design. Nobody will ever call me a zippy knitter, but at least I don't feel like I'm the ox dragging the cart through the Great Gate of Kiev.

Well, I'll take a peek in the Alice Starmore Aran book at the library today. Might find what I'm looking for there. In the mean time - it's off to the PMLS. (Oh! Premenstrual Masters of Library Science? Pre Marital Lace Sweater? Acronyms are so much fun!)
posted by Bess | 7:33 AM
---
4 Comments:
Only 2-4 inches?? Up here in Southern Alberta that would be somethin'! We've had rain almost every day for a month, and we're told that's still not enough to make up for the last 4 years of drought...

I am green over your ebony needles -- but ouch! Even in Canadian $$ they would be expensive. Perhaps a Birthday or Christmas treat? :-)

Yay! Speedy wishes for the Cashmerino! I spent half of what I could scrape up for my own aran on the new baby, but maybe next month I can splurge again...

And I'd love to see pictures of high tide along with that gorgeous hat, if you're trying to kill off some film...

It's a deal. I'm off for home and will get some shots of the pier under water. And I just called Ram Wools and asked if they had pleanty of brick color in stock and the man said yes sure lots and they'd ship it out tomorrow or Friday.

Who's dancing now?

Yeppers - I called Mr. Ram Wools (a guy answered) and asked if there was pleanty of Brick colored Cashmerino in stock. He said he'd seen my order and went to check - came back and said there was pleanty and it would be shipped this week! Who's danicing now!!

Subscribe to Post Comments [Atom]



Wednesday, September 08, 2004 Good news from Catherine, who has a house with a roof on it, even if she doesn't have electricity. I can't help feeling like prayers were answered, there. I refuse to complain about the weather because it could be worse. It could be lots worse, in fact. Today we are expecting only rain and probably only 2-4 inches and no wind. That is enough of a good grace gift for me. The mountains are expecting 12 inches plus winds. I'm glad it's post-swimming weather, because in a week the river will be chocolate milk brown with silt from the mountain runoff, upstream.

We've been having extraordinarily high tides all week. Monday LD&GF showed up for dinner but instead of coming in, they poked heads inside and said "come see the high tide." It was about 8 inches over the pier. We waded out to look at the boats and LD tied up the canoe so it wouldn't drift up over the pier (and possibly crack its spine when the tide went out). The forecast is for even higher tides today so it'll be interesting to see when I get home.

We always do get high tides in spring and fall and in winter we get what is known as Blow Out Low Tides. Now's the time you can paddle the canoe almost up to the shore, or deep into Jacob's Gut - into the forest - or what was the forest last year before Isabell took so much of it down.

humph

This is beginning to sound decidedly like weather complaining - so - how about

KNITTING NEWS!

I did it! I ordered the Cashmerino aran yarn from Ram Wools. Crossing my fingers now and chanting little pleeeeeeze sounds in hopes it will get here before we leave on our vacation. Brick is not a common color and I always feel particularly lucky when I can find it. Even with shipping I got it for under $6.50 a ball - about $1.00 less than anywhere else I've seen it priced. And they have what must be the full range of colors. Imagine - 3 reds!

I'm still kicking around aran designs. I'm not sure I want to actually go to the trouble of picking cables and putting them together or to just adapt an already designed sweater. I'm not even sure if I want a shortish sweater or a longish one. I really like this sweater and it would be easy to adapt.




Besides, I can just check gauge and get started if I copy someone else's design. No experimenting around with big swatches.

But I also enjoy putting my own designs together. Well - while I finish up the purple mohair lace sweater I'll ponder things and perhaps I shall have decided when the birthday gift arrives.

Happily the PML Sweater is at last zipping along with ease. I switched from metal needles to extremely sharp tipped ebony needles and man how my comfort zoomed! I was surprised that something as airy and loosely knitted as this sweater would cause my hands to cramp around my usual favorite Addi Turbos. But the Addi's have awfully blunt tips. I switched to inox which has somewhat sharper tips but it didn't make any difference. I forget who makes the ebony circular needles, but man oh man - do they have pointy tips and very long shanks. What a difference - and a pleasure.

I don't plan to post a picture of the PML sweater - it's being knit for someone else. But I know she will post it and when she does I'll put a link to it. Oh. My. I've never even posted a picture of the pretty blue merino/cormo hat. Still half a roll of film in the camera. Hmm. I'm tempted to just develop it today... if BD wants the camera for his Maryland jaunt I'll do just that. He hates 400 speed film.

Tonight I get a block of AloneTime, since BD's jaunt is an overnighter. I'll have a nice WW points-friendly soup supper, load up Pride & Prejudice on the video player, and knit that second sleeve. Goal - finish knitting the sweater and reading Big Stone Gap, complete with commentaries, by Monday A.M. Whew! Ambitious, aren't I?

P.S. Suzanne's Ebony Needles - that's who makes them! And this site sells them for $2 less than I paid for mine. posted by Bess | 5:22 AM
---
1 Comments:
You're an... ummm... aunt? Check my blog!

Big hugs and love to all the Ds!

Subscribe to Post Comments [Atom]



Monday, September 06, 2004 Adieu Summer 2004

Yup - it's officially over after today. And for all I'm looking forward to the fun of autumn, I am also a tad wistful at the flight of the imaginary leisurely summer days I would like to think I had. I didn't of course, though I had some wonderful days. But leisure didn't figure in to much of my summer. And it hasn't got even a supporting role for this fall. As I look into the future I don't have a weekend free till the week before Thanksgiving. What have I done to myself!?!

Yesterday the sky kept filling up with puffs of storm clouds - not the ordinary rain clouds, but hurricane clouds - 1000 miles away from the storm we were seeing the effects. I took a walk out to the road around noon and watched as the last of the blue sky disappeared. Later, BD and I drove up to F'burg for Texas chili and got caught in some fitful showers on the way home. We drove down Rt. 2 to Bowling Green - a slower route, but a pretty one, and then meandered home through the backroads. I was actually chilly and made him roll up the car windows. Ahh - how equinautical.

I've been struggling with the sleeve on the purple mohair lace sweater - the pattern is so much easier to knit in the round, but lawsee! I can't keep count of the stitches when increasing in the round. I finally ripped out the whole darn thing and started anew, knitting it flat. I am determined to finish this sleeve before tomorrow. I am also thinking of switching to wooden needles - but that's just a thought - not a decision.

LD&GF were over last night - and we heard all about the trip to Michigan. She was homesick and wanted a final dip in the river - and come to think of it - I do too. Just so's I can say I swim from May through September - something of a lie but not quite. They'll be with us for dinner tonight - roast chicken and new potatoes. It's been a long time since I let the oven get so hot for so long. Yup, yup - summer is over. posted by Bess | 7:41 AM
---
0 Comments:
Subscribe to Post Comments [Atom]



Sunday, September 05, 2004 Back from the city with a brand new copy of the fall issue of Vogue Knitting. I don't subscribe to that magazine, nor to Knitters any more, nor CastOff, come to think of it - but I do like to check out the fall issues. Those are the ones with the most cabled items, the most traditional designs, the most structural, suity kind of sweaters. They tend to be the ones that float my boat the most. I didn't care enough for the Knitters issue to plunk down the $ but Vogue had some things in it I want to look at more closely.

It got me to thinking about why I buy knitting magazines anyway and the reason is: for inspiration. I haven't knit someone else's design since 2000 when I knit BD's blue cardigan from one of the Classic Elite books. Mind, now, I see lots of designs I like - would like to own, were even the reason I bought a magazine or book. But when I pick up needles, I just tend to knit something I've made up myself - perhaps based on what someone else has already put together, but always tampered with beyond making the pattern useful for more than schematics. I'm afraid I'm the same with cookbooks and recipes.

But inspiration is extremely important. What is possible;
what is available; a new slant on things; these will all inspire me to use yarn and needles (or food and cookware) to let you get to know me a little better - to present myself to the world in the way I want to be known.

So, what did I like in the VK? Well, first of all I liked this combo of cable and intarsia.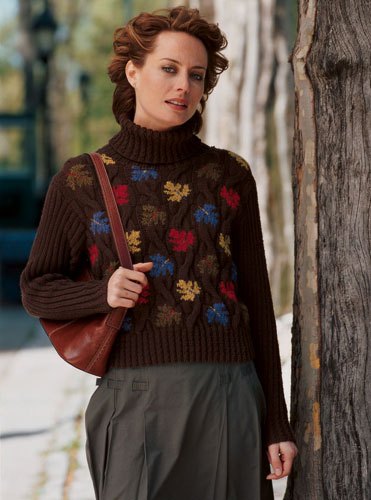 I probably wouldn't make it because I'm too lazy to do intarsia, but I might and I love the colors and I love the shape.

I adore this cabled coat too.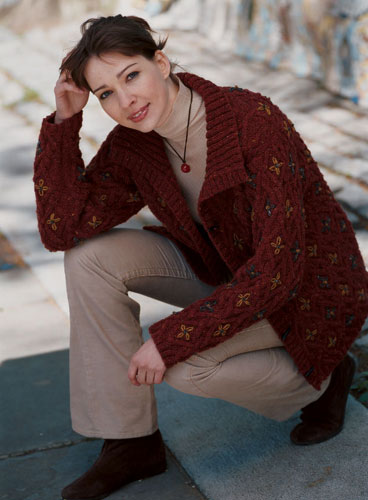 Again, the color does it for me, but I also like the shape, length and embroidery.

I adore this because I'm half magpie and in the magazine it's shown worn this way and as a surplice top.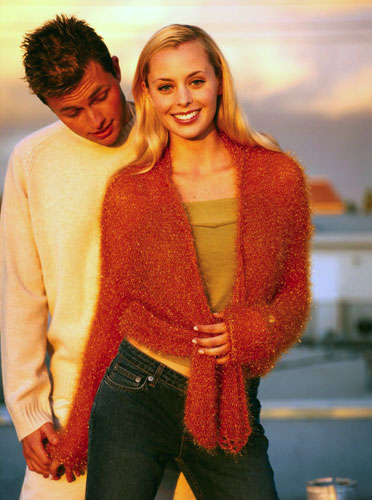 And someday I hope I will be wearing this (probably in my next life, my face has too much experience on it to pull it off this time around) in a size 6.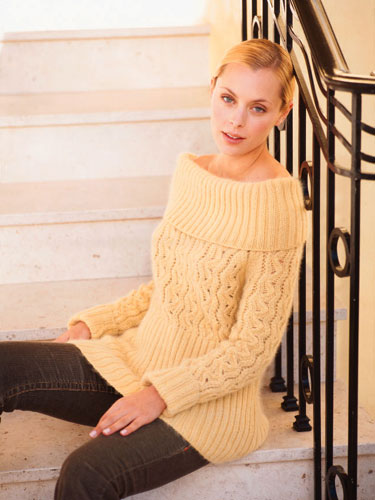 I'll be paring it with chocolate brown stretch pants on a cream colored couch long enough to stretch out on full length. There will have been a delicious meal before, served and whisked away by silent hands, and floating through the atmosphere will be the soft strains of Debussy or Faure. Something Frenchy. Handsome Mr. Right-With-Big-Bucks will be drawing closer to me with an assortment of fine liquors and jewelry, whispering exactly the right words.

* * *

And Bess returns to the present.

Yes. Well. A major thanks to Dana of GotYarn, who mentioned, in her latest newsletter, that she'd crossed the James River on the new 288 bridge. That was the first time I'd heard it was open - but then, the Richmond papers have all been full of nothing but flood damage from last Monday's rain. Still, I took the chance that it really was open and used it to get to my folks. It cuts 30 minutes off the trip - although it does entail driving on what is essentially an interstate; not one of my favorite things. And at this point, there's nobody really driving on 288. Construction is flying up as fast as nail guns can shoot it but right now it's pretty much an empty road. How nice.

This morning is cool, the skies still blue and the rain has been pushed off later into the week. Nevertheless - it is knitting day today for me. GF is returning home from a week in Michigan, so we don't expect to see LD, but I've offered to roast a chicken tomorrow - well, I'll roast it anyway, but they have been invited.

And the $64,000 question? Should Bess finish the sleeve today and read tomorrow or should she read today and knit tomorrow. Hmm. Life is short. Knit first. posted by Bess | 6:55 AM
---
0 Comments:
Subscribe to Post Comments [Atom]



Saturday, September 04, 2004 Mmmm. Day one of a 3-day weekend. Delicious. I'm off today to visit my parents, whom I haven't seen since early June. It's been that kind of summer. I'm leaving my boys alone for the day, and heading out early hoping to get in a long visit. The rest of the weekend will be divided between knitting and reading - this time with purpose, since I have a sweater to finish and a book to review on the 13th. The book looks skimmable and is a pleasant read so far. Set in 1978 too, my young mother period. Lawsee! What was I doing in 1978? Oh yeah - I remember - we started building the house that spring. I have a favorite photo of naked LD helping BD dig the footings. BD built the whole house - not contracting others, but hammering and sawing himself. It was a monumental project, another of his Herculean tasks, but we ended up with a pretty cool house for $25,000 and only a 7 year mortgage.

That was also the year I started working in the library. I just worked Wed. and Sat. mornings for a few hours, but oh my did I ever feel rich with that little $40 a month paycheck. (had to pause here to calculate if I really did only earn $40 a month - yup, 5 hours a week back when minimum wage was $2.25 an hour. After taxes that's about what I got.)

Funny about how money can make you feel rich or poor, depending on what you expected to be able to do with it. Now that I have to contribute to the house expenses, I'm always scrabbling, but then, it was all play money - and what fun I had with it.

I dreamed all night about knitting - which is the only fiber content to be found in this blog today. The dream was about going to another state to attend a fiber festival and enter some of my knitting in the fiber show. I was making hats and they were not finished - and there was something wrong with them too. BD kept watching and commenting and when I finally finished one he tried it on and said it was too small = though it was obviously a woman's hat with a picture brim. He suggested I buy some red cashmerino aran from a yarn store we'd passed driving up, and knit an aran sweater.

The funny part is that, in the dream, I actually thought there was a chance I could knit an aran sweater overnight!

But the real joy is that now I can tell him I dreamed he told me to buy the yarn, so of course, I will! Too cool, huh?

And no, no, he doesn't care how much yarn I buy. He may have an opinion about it, but I've never heard it. ('course I may not have been listening) It's just that it's easy to use "having to explain to Himself" as a check on my yarn purchases.

Part of the reason I don't really have anything to say (other than my life is pretty ordinary) is that Hurricane Frances is so heavy on my mind. I hate to think of the destruction it's causing in Florida. My heart aches to think of places smashed by wind and rain only 3 weekends ago getting trashed again today. I'm also thinking I'll contact the Florida State library to see if any libraries lost volumes to flooding. We have some pretty current titles on our sale tables and I could ship them down. Think I'll make a little $ donation too. They invited me to come give a talk back in '96 and really hosted me well. And for sure, when clothes and food and water are in short supply - help for libraries will be a very distant last on the priority list.

I'm also just a tad concerned about how hard VA will be hit if/when the rains come this week. We've been so soaked this summer, especially this August. Trees are barely haning onto the damp soil, dead limbs left over from Isabel haven't yet all fallen ... Well - t'aint nothing we can do about it. Least said, soonest mended.

So - off for the city I go. Ta.
posted by Bess | 7:44 AM
---
0 Comments:
Subscribe to Post Comments [Atom]



Friday, September 03, 2004 I used part of one of my vast hoard of sick leave days yesterday afternoon and came home to crash. A 2 hour nap and another 8 of night sleep has worked wonders on the aching jaw of WisdomToothRepair origin. But not before I crept shamefacedly back into the gym for a session with TthePT. Oh man - have I ever missed working out with her. She is just so dawgone good. The heat was pouring off my large muscle groups and even my jaw began to feel better. So, yeah, I could have stayed at work the rest of the day - just, I was too sleepy and I was caught up with everything urgent.

Funny how people's paths cross. Even though we live in a tiny community (10,000) if it weren't for the gym I would hardly even know TthePT's name. She does use the library because her kids have required reading to do throughout the school year. But her kids are just in their early teens - while mine is nearer to 30. We live at different ends of the county - easily 25 miles apart. She's a pretty serious Baptist and I have always walked my own spiritual path. And truth is, my upbringing, lifestyle, tastes and education point me in the direction of the arts and hers pointed her towards the gym.

When I first joined the gym she was one of the class instructors and though she had that jock sort of way of teaching classes, she was also interesting. (we have other jockette instructors who are deadly dull) So if I felt macho I would take one of her classes, but mostly I didn't. At the time I decided I wanted individual instruction I also decided I wanted to work with a woman. In our first session it was obvious she was shy and nervous with me. I am the LibraryDirector and so I have obviously read ALL those books and know EVERYTHING and have a severe scowl for those who AreNotEggHeads. It's funny how smart people think the person behind the desk is.

Anyway, she soon saw that I respected her skills and knowledge; actually valued them enough to pay her to teach them to me. Once she was no longer nervous around me, wow, did she open up with generous abandon. I pay her for one hour sessions. They have never last less than 90 minutes. And when I finish with a work out with TthePT I feel reborn; energized, supple, glowing, powerful.

Never, ever, underestimate the gifts another has for you.

And both of us are glad its September and we can get back into a routine.

But other than exercising and napping, yesterday was pretty much a wash. The Magnificent Sheryl left the house sparkling and the Fabulous Caleb did the same number on the lawn. I am ready for a 3 day weekend.

Continuing to pray for the safety of all in Florida, with special prayers for Catherine and her family.
posted by Bess | 6:59 AM
---
3 Comments:
I might actually consider joining this knitalong... if I had an extra $120 for yarn! I do love that brick color... mmm.... It could be my birthday gift to me... early....

Well, you can use any yarn but I do love that color and I loved knitting with the yarn last year. And thanks for the heads up about the link - fixed it as best as could be. You can't link to the individual yarn pages.

My sis and I are interested in knitting an aran so I will check back to your site soon. Thx

Subscribe to Post Comments [Atom]



Thursday, September 02, 2004 OOOO! A Red Brick Cashmerino Aran Knit-Along! Now that's a knitalong to win my heart.

Okay Annie - and anybody else - It's a go. I checked out the Ram Wools site and they sell Debbie Bliss Cashmerino Aran in bags of 10 balls for $62.55. I figure I'll need 20 to be on the safe side. It's just under 100 yards per ball and if at all possible, I want a hat to go with the sweater. I saw the most yummy display of red aran sweater, hat and scarf last winter at the Anne Taylor shop in the mall and my first thought was "That's the one I want to make!"

I plan to order the yarn as soon as the VISA billing month rolls around, sometime near the end of the first week of the month. So - I'll probably order it Monday as the HappyBirthdayToMe gift. I can't start knitting on the sweater till I finish the purple mohair lace, but I'm whipping up the first sleeve of that so I ought to be able to start before the end of the month.

So - How about this?

2004 Aran knit along

Yarn: your choice
Color: your choice
Style: your choice
Display: your blog
Starting date: Sept. 20 2004

Of course, it's not really important for me to knit an aran with a group and I hope it isn't for anybody else. I have always planned to knit one. In fact, I bought enough of the old Berocco Blue Faced Leicester back years ago to do just that. But since then I've realized that I didn't want to work with such a dark color on such a richly textured garment. I may still, one of these days, but I'm certainly not inspired to do so now. I think that stuff is destined for a more structured tightly knit Jean Frost type jacket.

Here is a suggestion, though - how about a Pray Along; for the folks in Florida, and points south east? I'm not looking forward to what 10 more inches of rain would do to us, but my god - I shudder to think about it hitting Florida, and more especially Catherine et. al. So - a little chanting, meditating, singing, dancing or whispering is called for about now.

I'm still quite up about it being September, and I made good use of my time yesterday, a worthy tribute to the month. But my excitement is somewhat subdued, after a WisdomToothVisit with the dentist. Dr. Andrea is a hoot, absolutely addicted to stuffing several pair of hands into your mouth and then asking you questions that require complex answers. She completely broke me up yesterday with a question about the book Ruby Fruit Jungle that was so off the wall I collapsed into uncontrollable laughter. I'm still laughing a little at her question and still thinking up more teasing answers for her.

Laughter aside, though, the right side of my head is still not functioning properly. I'll spend the day working quietly in my office, creating gant charts so we can tackle all the things we promised to do in the 5-year plan. Staff meeting on Tuesday.

I will conclude with this advice for spinners. If you ever get a chance to spin a blend of coopworth/llama/silk [60/25/15%] grab it. It's soft. It spins fast. It forgives all errors. And, Annie, it's done and will be in the mail as soon as it's dry.


posted by Bess | 8:12 AM
---
0 Comments:
Subscribe to Post Comments [Atom]



Wednesday, September 01, 2004

Happy September First to one and all! This is my Birthday Month!



That's not a wheedle for a present, but an invitation to share with me the joy I feel for having gotten to come to earth and march down the path - for the opportunity to be On the Quest.

I absolutely love September. I love its surprising juxtaposition of harvest and completion, onto new beginnings. Like many of you, I feel the urge to buy pencils and thick stacks of fresh paper, notebooks and little bags for carrying my lunch. New clothes figure prominently in September, too, as well as new foods, because now the apples will be crisp and fresh and snappy again. I am so thrilled that the nights will once more invite the snuggle of blankets. I'm dancing with the thought of wearing sweaters again. Inspired, I even feel like knitting a sweater. How about a brick red aran in Cashmerino? With a matching aran hat?

I also love September because in my secret self it is the beginning of the Christmas season. From now on, I anticipate nothing but parties, if not in reality, at least in my heart. A party heart is a heart that always has a little giggle behind its steady beat. It expects extra joy so it usually finds it. We'll begin our party season with a birthday party for BD'sGF who celebrates her birthday a scant 3 days before I celebrate mine. Immediately after my b'day we head off on a vacation up Nawth. (I can barely post this since so often our vacation trip plans fall through - so, please, chant your anti-jinx mantras here for me.) This means I get to wear sweaters even earlier than usual. Isn't it splendid how sweaters cover up any excess with their loose stretchy knitted fabrics?

Fall fiber festival follows the day after we return from our TripIfWeTakeIt and that will surely be a party. A weekend with Jen and Co.? That's a fete indeed. I begin my knitting classes the following weekend and they are also very party like - in that I'll have new knitters around me for hours at a time. In the midst of all that is the first VLA convention I have felt like going to in years. There is a pre-conference on graphic novels (comic books, my dear) that I am particularly interested in attending. And this year I shan't have to listen to mewing and yammering and posturing about the CertificationIssue. Even if they natter on about it, which I suspect they will, it won't matter to me because last January the state legislature (yea guys'n-gals in suits!) just severed the gordeon knot, so long imprisoning me, with a smooth slice of the legislative knife. Ha! So there. Nya.

October culminates with Halloween, admittedly not a particularly important holiday for me, but one that does fill the air with the happy anticipation of children, and it is immediately followed by the Knitters Review Retreat - oooo and ahhhh.

And then, you know, it's Thanksgiving - which is our biggest feast of the year - largely due to it being LD's favorite holiday. And then it's Christmas and all the partiness that brings, and then New Year and then the snuggle down time of winter, highlighted by some Barbara's Babes visits and then spring and then MS&W and then summertime again and then it's back around to my Birthday Month.

Well. A year is so full of the sweetest things - or at least, the sweetest possibilities - and in some ways, it's those possibles that are more fun than anything else. Especially for a lucky Virgo ENFP. I ought to be the happiest chick in the nest. I certainly feel that way today.

Wishing all the rest of you a matching joy.
posted by Bess | 7:56 AM
---